Aug 13, 2014
Standing with Israel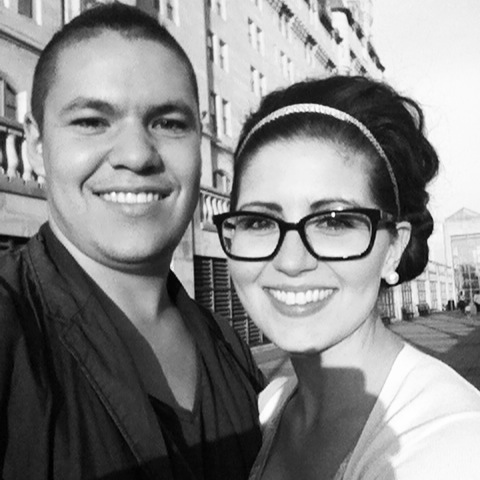 My son-in-law, Mike and I standing at the very spot where Israel became a nation in 1946
Monday, August 11th
Upon our arrival at the Tel Aviv airport on Monday afternoon of August 11th, my son-in-law Mike Daniel and I went directly to Jerusalem to appear on Daystar TV live to over 200 nations of the world. I am so thankful for this opportunity to show support of Israel at this time. For me it is not a political statement; it is a Biblical response to God's word to Israel: "I will bless those who bless you, and I will curse him who curses you." (Genesis 12:3) It seems very clear to me that, if we want to live in blessing, we must bless this special nation and her people.
From Jerusalem we traveled back to the city of Tel Aviv with our dear friend Avi Mizrachi and checked into our hotel, situated on the shores of the Mediterranean Sea. It was a peaceful ending to a long day that began in London, England at 3 am.
Tuesday August 12th
After a refreshing sleep we headed out to the Hall of Independence, where David Ben Gurion declared Israel a nation in 1948. I was deeply moved as we listened to the entire story, watched the videos and pictures, stood in the very room where the historic act took place, and heard Ben Gurion's voice making the actual declaration amid a chorus of cheers, followed by the singing of Israel's national anthem. It was a powerful reminder of one of the greatest miracles and fulfillments of prophecy to happen in our lifetime.
From there we went a short distance to the seashore and the ancient city of Joppa, where Jonah boarded a ship in his attempt to run from God's call on his life. This part of history came to life again and served as a fresh admonition to obey God no matter what.
This is also the place where Peter stayed (recorded in Acts 10), and while praying on the rooftop, had a vision and heard a voice telling him that what God had cleansed he should not call unclean. Later a messenger whom Cornielius had sent, arrived and asked him to come back to Ceasarea with them. While this journey took them over a day to travel, we drove from Joppa to Ceasarea in about an hour. Both Peter's and Cornielius' obedience opened a new way of living for all of us who have been redeemed from the curse of the Law.
At the ruins of what was once a great Roman centre and port in Ceasarea, we spent time in the amphitheater, reading Acts 10 and honoring these two amazing men. At the very place where the Holy Spirit first fell on the Gentiles, we asked God to do it again for us.
Next, we drove to one of my favorite places - The Sea of Galilee Guest House. It is a peaceful place to stay, run by a fascinating older Jewish lady. The guest house is situated on one of the hills overlooking the Sea of Galilee, not far from where Jesus lived in Capernaum and did so many miracles. It is also very near the place where He preached the Sermon on the Mount.
The Gospels record that, on a number of occasions, Jesus would leave the Sea and go up one of the hills to pray. I love spending time here.
I am praying for our partners and friends and thanking God for what He is about to do across Canada.