Aug 15, 2014
From Galilee with Love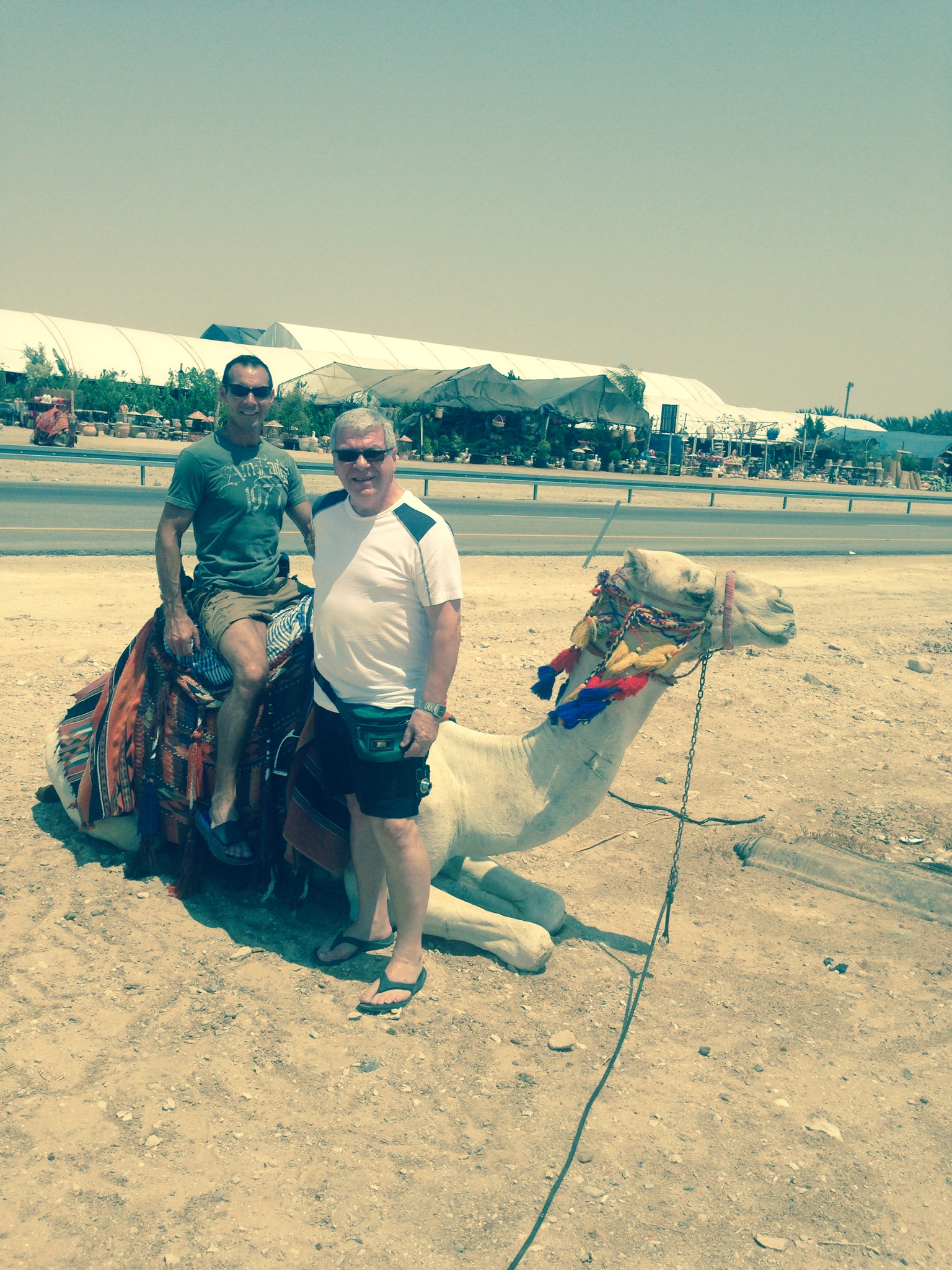 My son-in-law, Mike and I
After a wonderful Israeli breakfast of fresh tomatoes, cucumber, cheese etc., we went to a high hill very near our guest house. This is the place Jesus took His disciples when he taught what we call the Sermon on the Mount. The hill is now called the Mount of Beatitudes. I read the entire sermon from the Message translation of the Bible, and both Mike and I were impacted and challenged afresh by His words. We took our time to pray and reflect and re-commit our lives.
It takes little imagination to envision the large crowds sitting on the hillside listening to Jesus' as He addressed most of the important issues of life. I highly recommend that each one of you read Matthew Chapters 5 to 7 today and, if possible, from the Message translation. As you read, I trust you will see what a strong message it really is, and realize that we need it today more than ever.
From there we followed the path down the hill to Capernaum nearby. It is often referred to as Jesus town, since He lived here after he moved from Nazareth. It is also the place He condemned, saying that, if Sodom and Gomorrah had seen the miracles they saw, they would have repented. He declared that it would be destroyed and would never be rebuilt, and as we stood in the ruins today, it was a tangible demonstration of the validity of His word, and a solemn reminder to never take His miracle-working power for granted.
We stood in the ruins of the very synagogue where Jesus taught on the Sabbath day. We recalled so many of the miracles He did here, including the lowering of the man through the roof of one of the homes, and the healing that took place. It is amazing that, in spite of such dramatic miracles as this, the people of Capernaum refused to repent.
After our time in Capernaum we drove along the shore to an Israeli Kibbutz where what is called 'The Jesus Boat' is on display. A few years ago, during a time of drought, two fisherman found a couple of ancient nails in the sand, and as they dug down deeper, they discovered a boat from the time of Jesus. It became a major project to retrieve it from the sand and restoring it, without destroying it. Looking at it now in its restored condition gives us an understanding of the size of boats used to fish in Jesus' day. Jesus Himself used boats of this nature on a number of occasions. It also made me thankful for the appreciation Israel has for history, and how carefully they preserve artifacts like this for our benefit today.
Standing at the edge of the Jordan River
We then drove about an hour to Beit Shean, the city where Saul and his sons where killed and their heads hung on the wall. Because of the extent of the ruins here, and as we walked down the streets lined with pillars and sat in the amphitheater, it is easy to imagine what life was like in those days. Throughout almost our entire visit, we were the only ones there, probably because the temperature yesterday went up to 42 degrees. Naturally, we have been drinking a lot of water on this trip.
As I write this update on top of a hill at our guest house overlooking the Sea of Galilee, I think of all the times we have read that Jesus went up unto a hill to pray, and sometimes prayed all night. I am getting revived and renewed in my faith and spirit as I spend time here.
While many have expressed concern that this is a bad time to be in Israel because of the situation with Gaza, I believe it is the best time to come and show our love and support. Again yesterday we had a long talk with people who live here and they are so thankful we have come at this time.
From Galilee I send love and blessings to all of our friends and partners.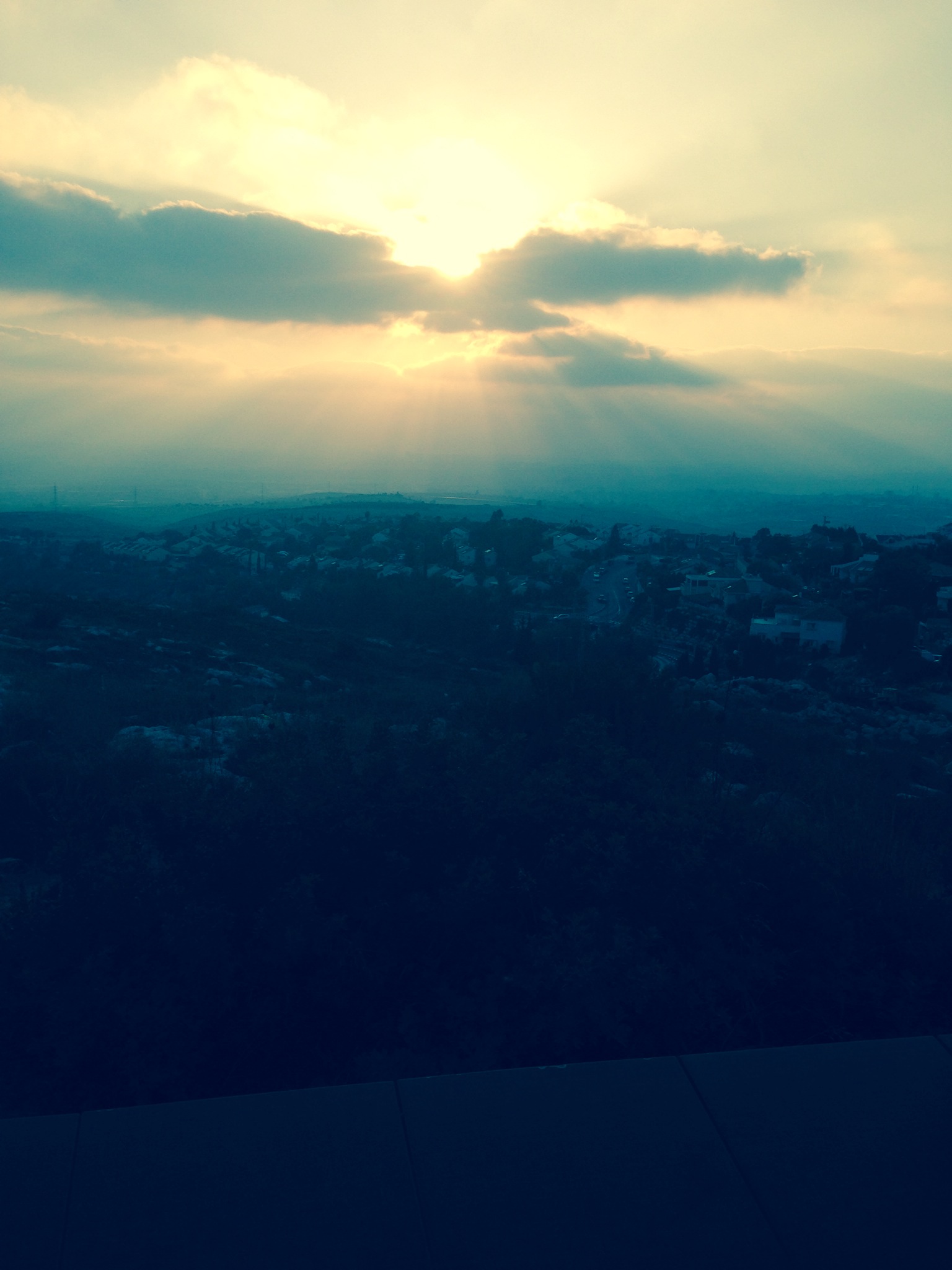 Sunset over Tel Aviv