Aug 17, 2014
Climbing to David's cave
We woke up to another perfect day here in Israel. Rain is very rare this time of year, so they have to rely heavily on irrigation, which has made the desert literally blossom like a rose, just as the Bible prophesied.
After breakfast we drove to En Gedi which is right at the Dead Sea. This area was made famous thousands of years ago when David camped in this region when he hid from King Saul who wanted to kill him. For many years when we brought groups from Canada, we would stop here and our guide would point from the bus towards a large canyon that sits between two very high rocky hills, and tell us, "Back there are the caves that David lived in." For many years I purposed in my heart that I would come one day without a group and go back to the caves.
Last year I did it for the first time and was very surprised to discover that it involves some very serious climbing in order to reach the cave of David. It was challenging but so worth it once we reached it that I knew I wanted to return. So this morning Mike and I headed out and passed several waterfalls and pools on our way to the top.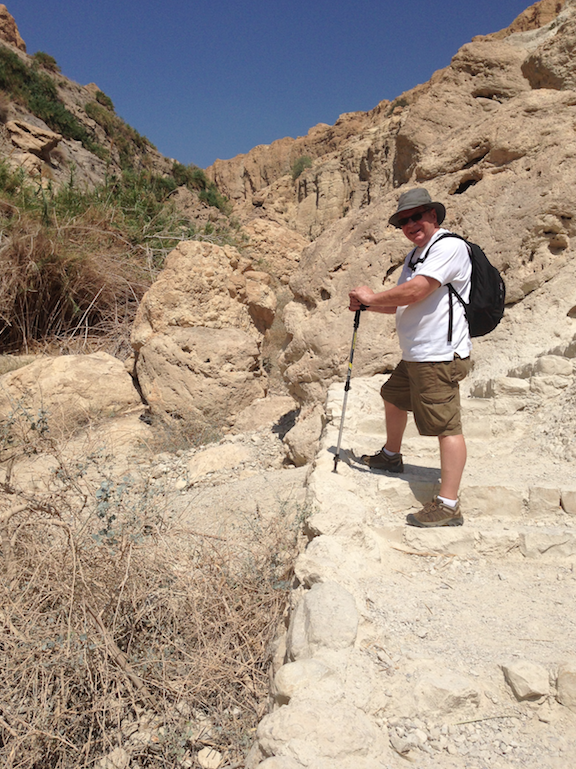 Once we arrived in the area that David hid we found the waterfalls and a natural pool of cool refreshing water. It felt so good to spend quite a bit of time in the water, as it was 42 degrees when we left our car and began our ascent. We also visited David's cave which is very large and has another small waterfall and pool. The temperature here is much cooler as it is in the shade and cooled by the water. We chose this setting to have church! I played worship music and spent time praying and worshipping, both on our own and together. As we made our descent, we realized we had spent 5 hours in this peaceful setting, sensing the Lord pouring in so much fresh anointing for Canada.
Our next stop was the Dead Sea where Mike had his first experience of floating on top of the water. The buoyancy is caused by the high salt and mineral content. This place always serves as an illustrated sermon. Nothing lives in the Dead Sea because, even though fresh water flows in, nothing flows out, and therefore it cannot sustain life. It is exactly the same with us as believers; unless we allow the Spirit of God to flow out from us, our lives are spiritually dead and useless.
Prior to coming on this trip, many told me they felt this was not a good time to come to Israel, but I believe it is the best time to come and show support. Israel has the best security in the world. I want to encourage every believer to try to arrange to come in this season. The media reports of the problems with Gaza have so hurt tourism that a number of hotels and shops have temporarily closed up because they have no business. This is a victory for Hamas and is really hurting the economy here.
It is a blessing to travel through the land speaking blessing and life!