Aug 18, 2014
Climbing Masada
Today began with our alarms going off at 5 am as this is the day for us to climb Masada, and because of the heat you must do it early. We arrived at the base of Masada just after 6 am and began our climb. It took 1 hr and 45 minutes, which is extremely long. I make myself feel better by the fact that most people my age act their age and never would try this. They could take the cable car up instead. After Jesus' death, Masada was Herod's winter home and he had a palace with swimming pools, etc. at the top. The view is spectacular.
Jesus prophesied that Jerusalem would be destroyed, and in 70AD the Romans came and did exactly that. Some Jews fled to Masada since it is a flat mountain in the middle of a plain, and there was no way the Romans to get to them without being seein.
The Romans actually built a ramp up to get to the Jews, and when they arrived they discovered that the Jews had killed themselves and their families so that the Romans would not have that victory. It is a tragic story. This is the place that new members of the military are sworn in and declare, "Never again".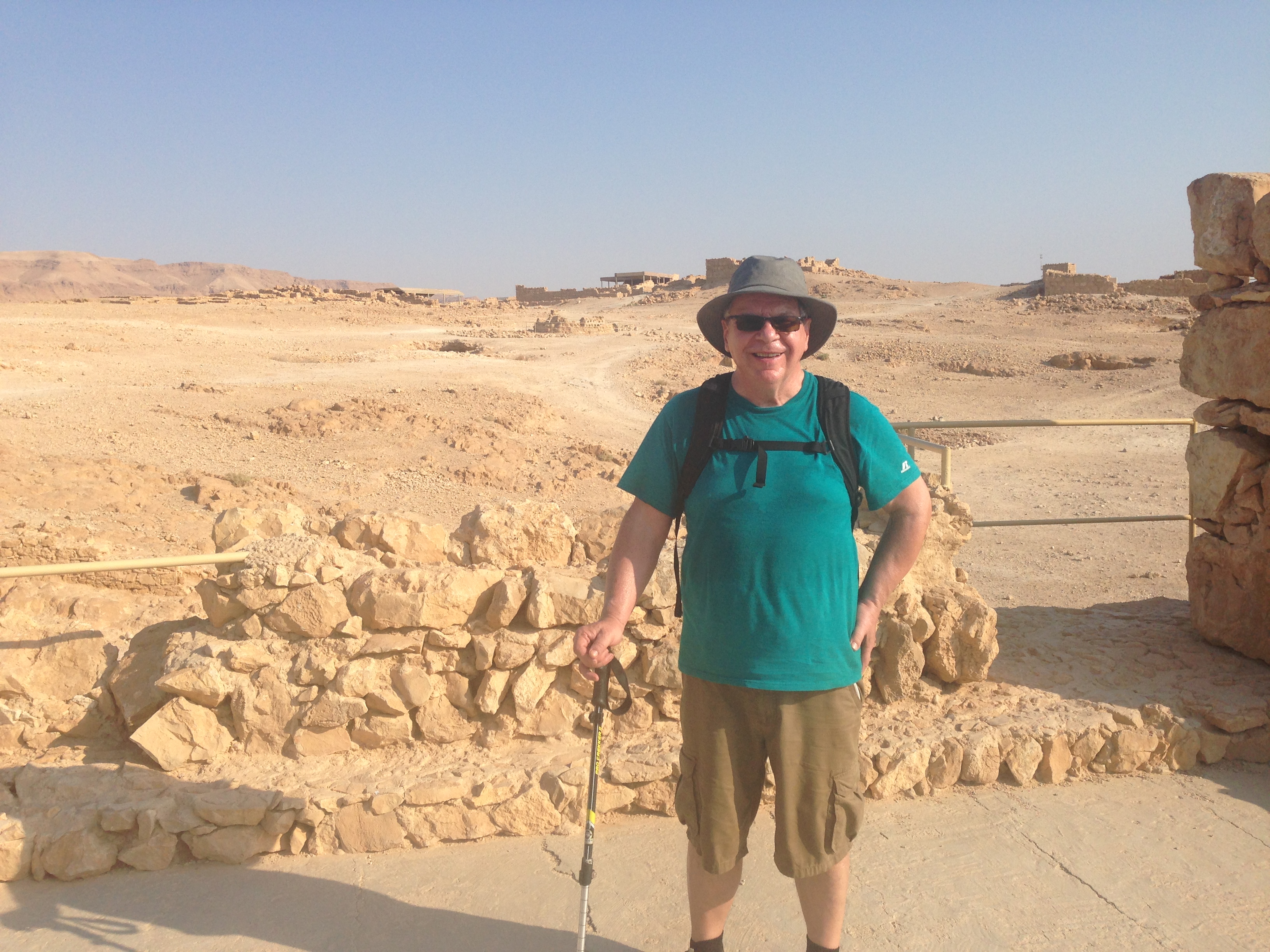 At the top of Masada
The climb down was much easier and we did it in less than an hour. Mike was very kind and patient as I knew he wanted to see how fast he could climb it, but insisted that he stay with me.
After Masada we drove up to Jerusalem through the hills of Judea and went directly to the Garden of Gethsemane, situated at the bottom of the Mount of Olives. Some of the olive trees in the Garden are more than 2000 years old, which means these very trees were here when Jesus came to pray and where He was arrested. We spent time here praying and thanking Him for the battle He fought and won here.
We then walked up the Mount of Olives where we had a spectacular view of the city of Jerusalem. We did our descent down the road that Jesus would have used when He entered Jerusalem on Palm Sunday.
From there we visited the site of the High Priest Caiaphus' house, which is just across the Kidron valley from the Mount of Olives. After Jesus arrest he was taken here. The steps that were used to enter the city from this direction are still here and it is a profound feeling to know you are literally following the footsteps of Jesus as he was surrounded by the Roman soldiers.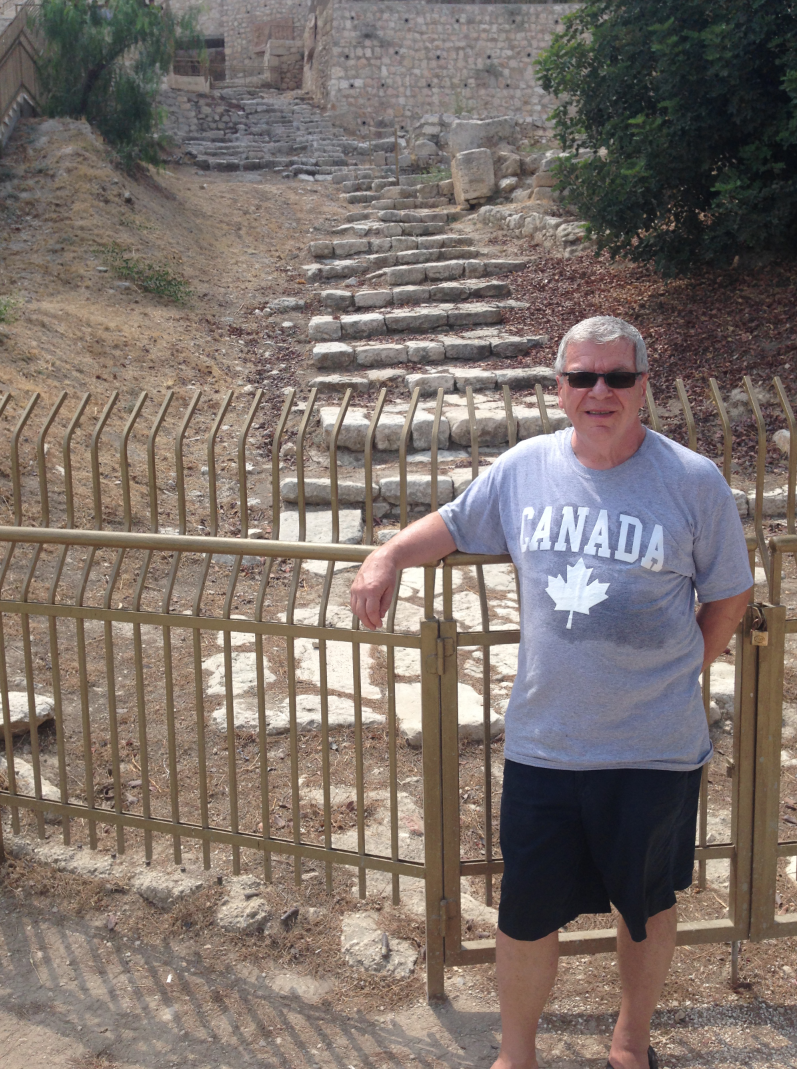 These are the steps that Jesus would have climbed after his arrest
Jesus was kept at the High Priest's house overnight in the inner prison, in what they called the pit. This pit was reserved for hardened criminals. The only entrance to the pit at that time was through a hole in the ceiling, and the prisoners were lowered down by a rope. Please read Psalm 88 and you will realize that this is the prophetic cry of Jesus as he suffered in this pit during this long, lonely night. This is one of my favourite places to visit, and I am always overwhelmed at the price He paid even before his death on the cross for us. Mike and I read Psalm 88 here and were both impacted.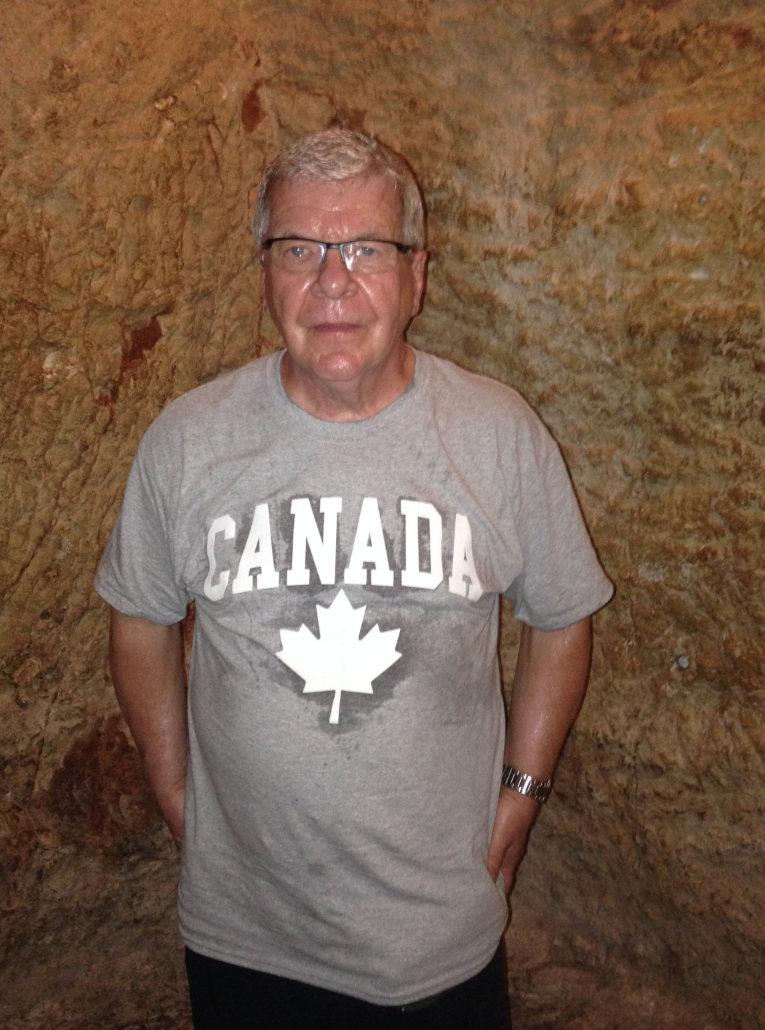 Psalm 88 is his cry from this pit
On the same level very near the pit is the common prison, and this is where Peter and the others were brought on several occasions. They were beaten and forbidden to preach about Jesus again. The pillars to which they were tied when they were beaten are still there, and early Christian markings carved into the stone walls attest to the authenticity of this place. I am overwhelmed at the commitment of these men to spreading the Gospel and the cause of Christ. It is amazing that after their imprisonment and beatings they would go right back proclaiming Jesus to the then-known world.
We drove from there to Bethlehem, which is a special city. Since it is now controlled by the Palestinians, we actually have to cross the border. The purpose of this visit was to see some friends who we have been connected with for years. They operate a store and restaurant for tourists, but because of the recent problems they have no customers, so they are closed along with a number of other businesses. They confirmed that things are not good in Bethlehem and this city has gone from being about 70% orthodox Christian to having very few Christians. My Christian friend gave a very passionate talk to me about the fact that he believes along with many others that what is happening in Iraq is going to happen everywhere. We need to really stand up for our faith and values now.
When we returned to Jerusalem we checked into our living quarters, Christ Church Guest House, which is situated inside the Jaffa gate in the Old City. It is the oldest Christian church in the Middle East. This is an amazing place. Once we settled we walked through the streets of the Old City and Mike was amazed at the shops and people and narrow streets. It is easy to imagine what it must have been like in Bible days.
We had dinner at a little restaurant in the Old City, then went to the Western Wall. There were more Jewish people praying at the Wall than I have ever seen. Both the men's and women's side were full. It is very moving to realize that they were here to pray for the peace of Jerusalem. I wonder if our own nation was going through something similar if many Christians would gather publicly to pray.
I want to emphasize again that I am so thankful to be here in Israel at this crucial time. It is a privilege to be in His land, praying for Canada as I stand with Israel.