Sep 18, 2014
God is moving in Northern Ontario!
North Bay, ON, September 12, 2014
As people began filing into North Bay's Gateway Pentecostal Church on Friday evening, there was a sense of hunger and expectancy in the air. Two ladies had even arrived over an hour early to ensure they would get front row seats. This would be the first of three Healing & Revival meetings I would conduct in Northern Ontario over the weekend.
As I shared the message "Don't Think Small", I endeavoured to impress on their hearts that we serve a big God who does big things. They obviously caught the truth of the words, because one after another began to declare outstanding healings.
One man told us that five years ago he was suffering from bone cancer, and attended a service I conducted in North Bay at that time. That night he had an encounter with God and gave his life to Jesus. Doctors had not given him any hope. Now, 5 years later, he came and is still in love with Jesus, and much to the surprise of the doctors, is still alive. During the meeting he reported that all the remaining symptoms had left and he was pain free for the first time in years.
Following the many testimonies I laid hands on everyone, that they might receive an impartation of God's anointing and healing power. What a blessing it was to see so many touched.
While I was in North Bay I went to the hospital to pray for a lady I have known for over forty years. Bernice McLaughlin had come to Christ in one the first Miracle Services I ever conducted when revival broke out in Beachburg, ON, where I had been pastoring. I particularly remembered Bernice because her six-year-old grandson, Mike, had suffered a traumatic brain injury in an accident in 1974, was in a coma and the family was given no hope that he'd survive. But God miraculously healed Mike when I laid hands on him as he lay dying.
Now, forty years later, as I entered Bernice's room in the North Bay hospital, a strapping, friendly, completely whole forty-six-year-old Mike greeted me, and we shared a special time, reminiscing about the amazing miracle he had received.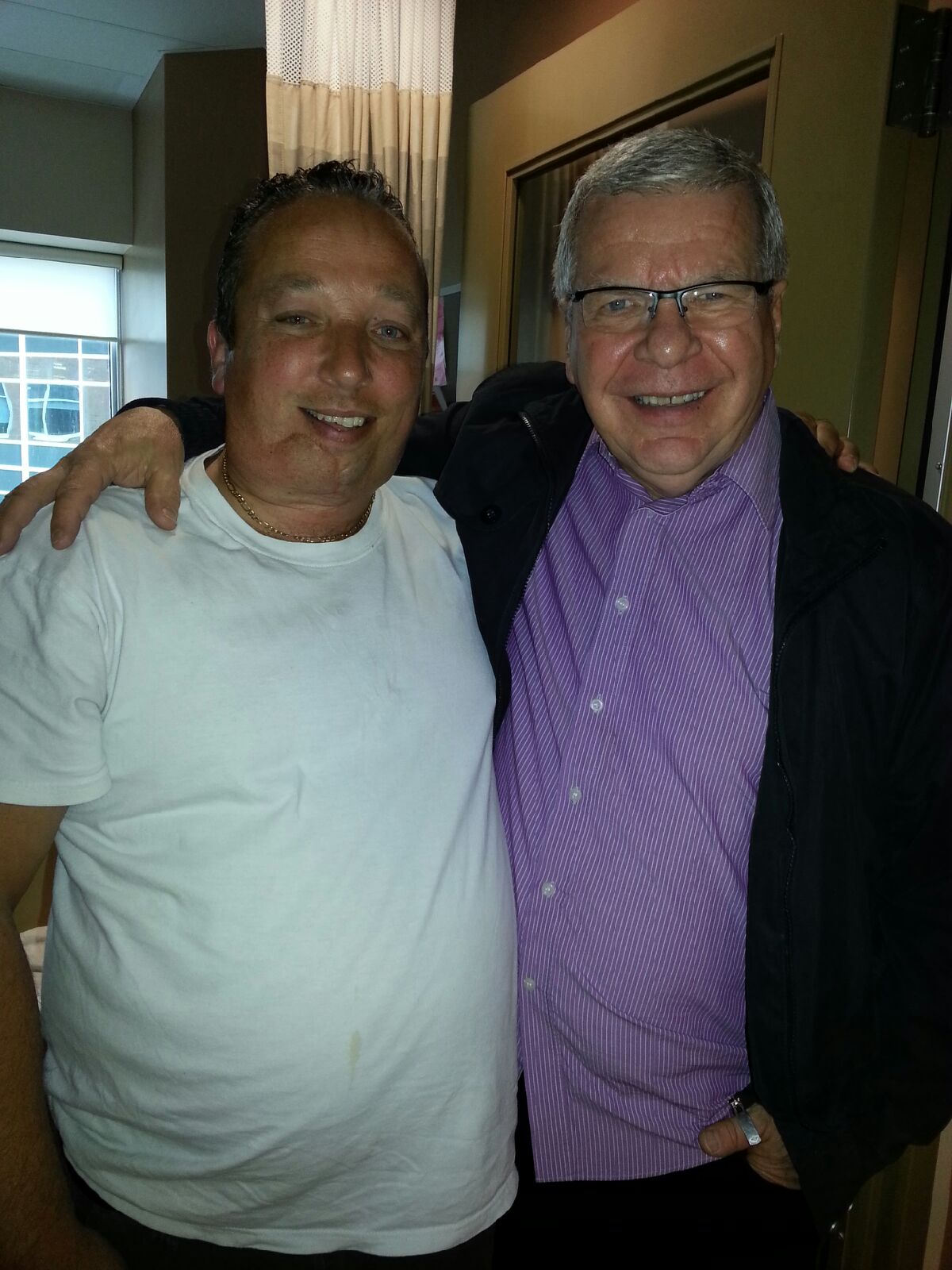 Sudbury, ON September 16th
I was pleased to learn that nine Sudbury area pastors and their churches had joined forces to host the Healing Revival Service at Grace Family Church. All nine pastors sat on the front row, and the various congregations crowded the auditorium. There was a tremendous sense of freedom during worship and as I preached, and the healings that followed gave evidence to the Holy Spirit's awesome presence. Many testified of notable miracles. Two people testified of release from all pain from hernias, and neither of them could find any evidence of where the hernia had been.
A lady who could not get around without a cane, said her doctor told her that she would have to have surgery for knee replacement. As the Holy Spirit moved, all the pain left, she had total freedom of movement, and when she came forward to testify, she left her cane at her seat, since she no longer needed it. A boy testified that he had had asthma since birth, but during the service he felt God healing him and was able to breathe freely. Many testified that as they were being healed they felt heat in the area where the problem was.
At the end of the service a young lady came to the front with her friend. I had prayed for her earlier in the meeting, but she had returned to her seat without any outward evidence of healing. She explained that she was born with no sight in one of her eyes. But as the service progressed after she was prayed for, she realized that her eye was no longer blind, and she could see out of it for the first time in her life. I got a picture of this young lady and I as we rejoiced over this outstanding miracle.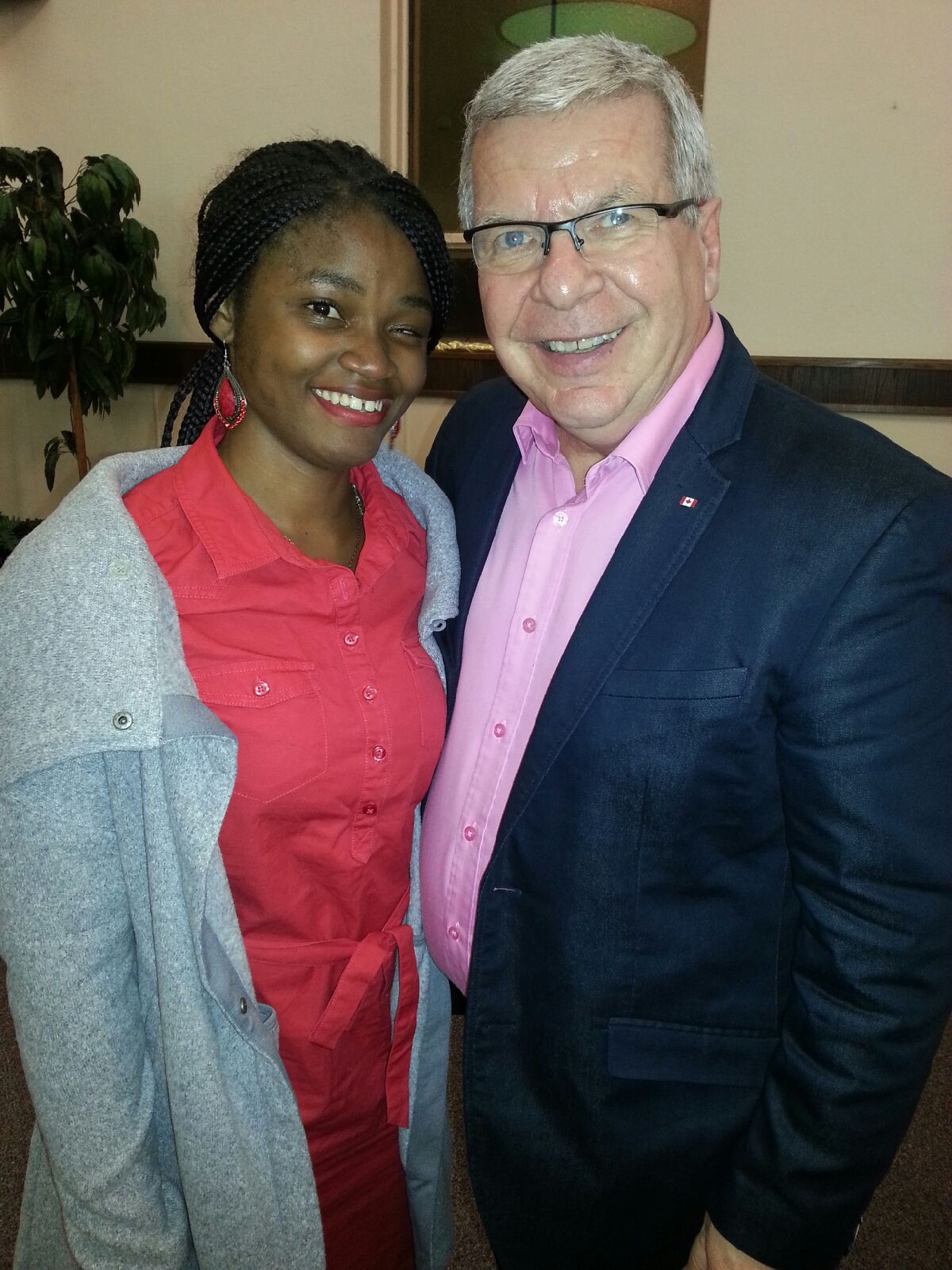 At the conclusion the service I offered prayer for anyone who wanted it, and was blessed to see that the pastors were the first to respond. God touched many in a mighty way, and I believe Sudbury will continue to feel the effects of all that the Lord accomplished.
Hanmer, ON, Sunday, September 17th
I had the privilege of preaching the Word of God in the morning service at Valley Pentecostal Church in Hanmer, on the outskirts of Sudbury. I preached about the spirit of intimidation that has gripped the church, but with the Holy Spirit within them, they can rise up and turn back the enemy as they stand on guard for Canada.
It is so encouraging to see people joining the army and believing with us to see Canada saved. We are rejoicing in all that God did and continues to do in people's lives.
Throughout the weekend I had the privilege of meeting many of our partners and welcoming a number of new partners who have joined our team. We are thankful for all who supported these meetings, and especially for Curtis and Shelley Belcher and their team at KFM Christian Radio, who coordinated the meetings and are such a blessing to us and to Northern Ontario.