Nov 09, 2015
God moves again in Cape Dorset through the Arctic Hope Project!
Steven Carleton and the Arctic Hope team have just completed the second Arctic Hope course of 2015! It was another powerful time in the Arctic and young lives were impacted with the message of hope.
Arctic Hope Youth Conference
The course began with the Arctic Hope-Youth Conference at the Cape Dorset Full Gospel church on Friday night, October 30th. Travis Holownia of Resurgence Ministries in Edmonton was the youth speaker, and he spoke about God's ability to impact and change lives with hope and love. Braden Scharfenberg, the Worship Director at the Global Prayer House in Medicine Hat, Alberta, led worship for the youth conference. There were over 50 people from the community that came and were impacted by God's Spirit, and many of them were young people. They heard about what God can do with their lives, and that God has a plan and purpose for their lives.
Travis Holownia of Resurgence Ministries in Edmonton, AB, speaking about God's desire to have relationship with Inuit youth
Braden Scharfenberg and his worship team held Music Workshops on Saturday and Sunday afternoons. Young people came and had their music skills sharpened by the teaching and training from Braden's team, as they learned how to play bass and acoustic guitar, and drums. Two of the young people that attended the workshops asked the pastors of the Full Gospel church if they could be a part of the worship team. It was a practical way to teach young people how to worship the Lord with instruments.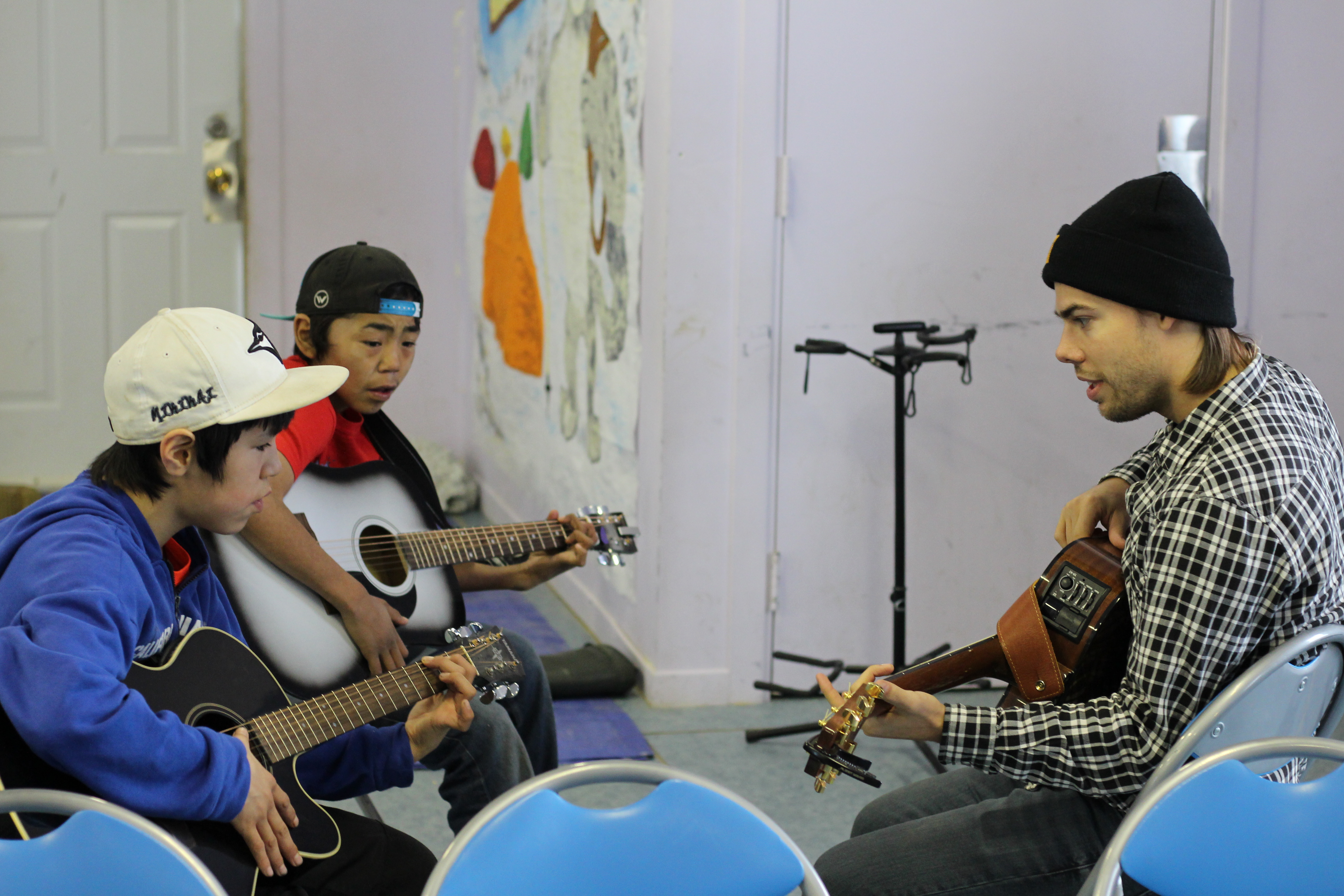 Braden Scharfenberg of the Global Prayer House in Medicine Hat, AB, teaching Inuit youth how to play guitar
Sunday night was the final night of the Youth Conference, and Travis Holownia spoke about how God wants to remove all barriers between us and Him. He spoke about the power of forgiveness and that God can bring us through any challenging situation. There were over 80 people from the community in the service, and the Arctic Hope team prayed for each and every person. Young people began to speak in the Holy Spirit and many felt the presence and love of God. Family members hugged each other and wept; there was healing and restoration in relationships.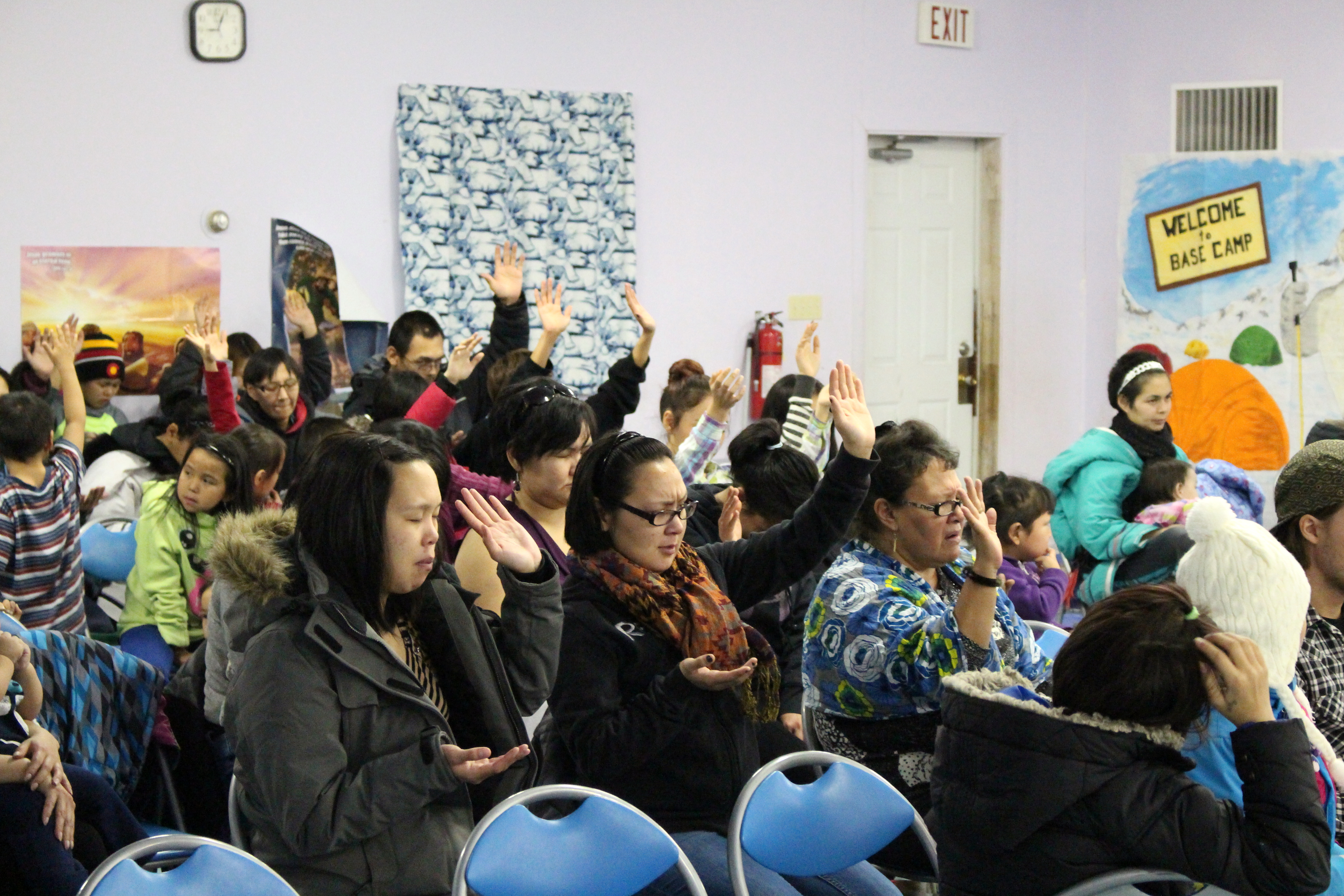 Inuit youth encountering God during the Arctic Hope Youth Conference
The Kingdom of Heaven came down during the Arctic Hope Youth Conference and impacted lives. There were over 15 salvations, and the Pastors of the Full Gospel church said publicly that they never dreamed of having so many young people in their church. It was a picture of what God will do in Canada's Arctic.
Arctic Hope Project Inuit Youth Leadership Course
The Arctic Hope course began on Monday, November 2nd at 10:00am. Steven had asked young people from the youth conference to come to the course. Seven teenage boys came to the Emotional Resiliency Workshop with Reepa Evic-Carleton, and they all learned about how to become a healthier person. They learned about healthy relationships, healthy boundaries, good decision making, and the effects of allowing trauma and pain fester in our lives. Steven talked about what it was like for him after he was abused and what decisions he made that were good for him and ones that were not. Steven also said that there is live and purpose after traumatic events, but it is a process with people and with the Lord.
Seven Inuit boys attended the Emotional Resiliency Workshops
It was very unique to have only males in the Emotional Resiliency Workshop. These boys were very ready to work on overcoming their pain, and the Youth Mental Health worker told Steven that she was very surprised to see that representation. One of the boys in the workshops was directly related to the 11-year-old boy that committed suicide last year. The 11-year-old boy was the reason that the Arctic Hope Project started.
Tagak Curley did not make it to Cape Dorset due to weather in his community, but he sent his encouragement to the Arctic Hope young people. One of the things that he said was that what these young people were doing is historic and very important for Cape Dorset. He said that they are doing something new and fresh that the community had not yet seen, and also that they must continue to make themselves leaders.
Reepa Evic-Carleton teaching the seven Inuit teenagers about healthy lifestyles and having good people in our lives
Steven Carleton met with the Youth-Elder committee that started after the first Arctic Hope Project Inuit Youth Leadership Course, and suggested to the committee that they include all of the new young people of this course. The committee welcomed all of the new AHP youth, and they will continue with the committee to see Cape Dorset become a better community.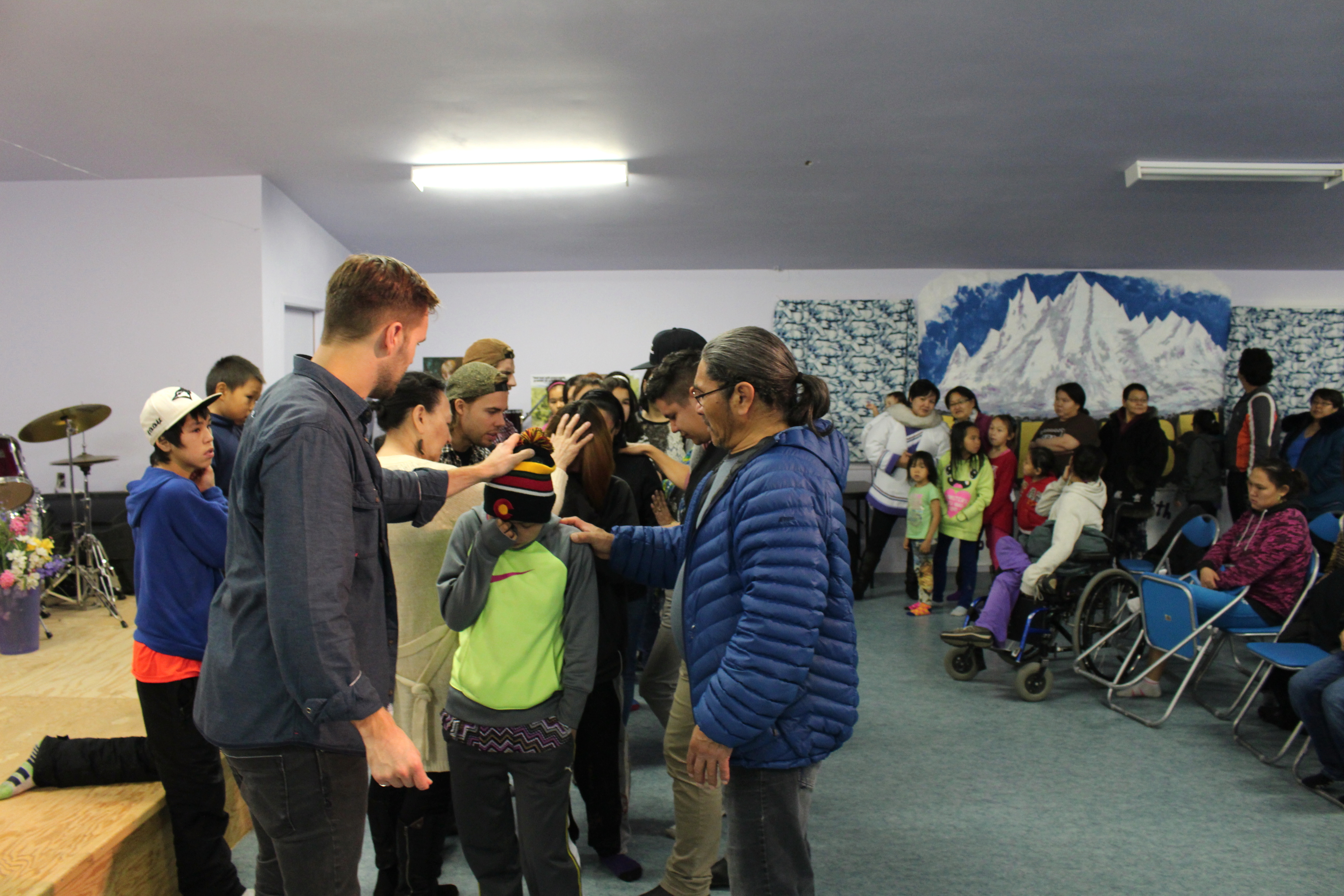 The Arctic Hope Ministry team prays for each person during the last night of the Youth Conference
This was a very important time in Cape Dorset. Many lives were impacted and changed with the good news of Jesus. There were salvations and physical healings, and young people are allowing God to remove barriers and mountains in their lives. The Arctic Hope Project is making progress and impact in Cape Dorset, and we will see a generation rise up into the destiny and purpose that God has called them to.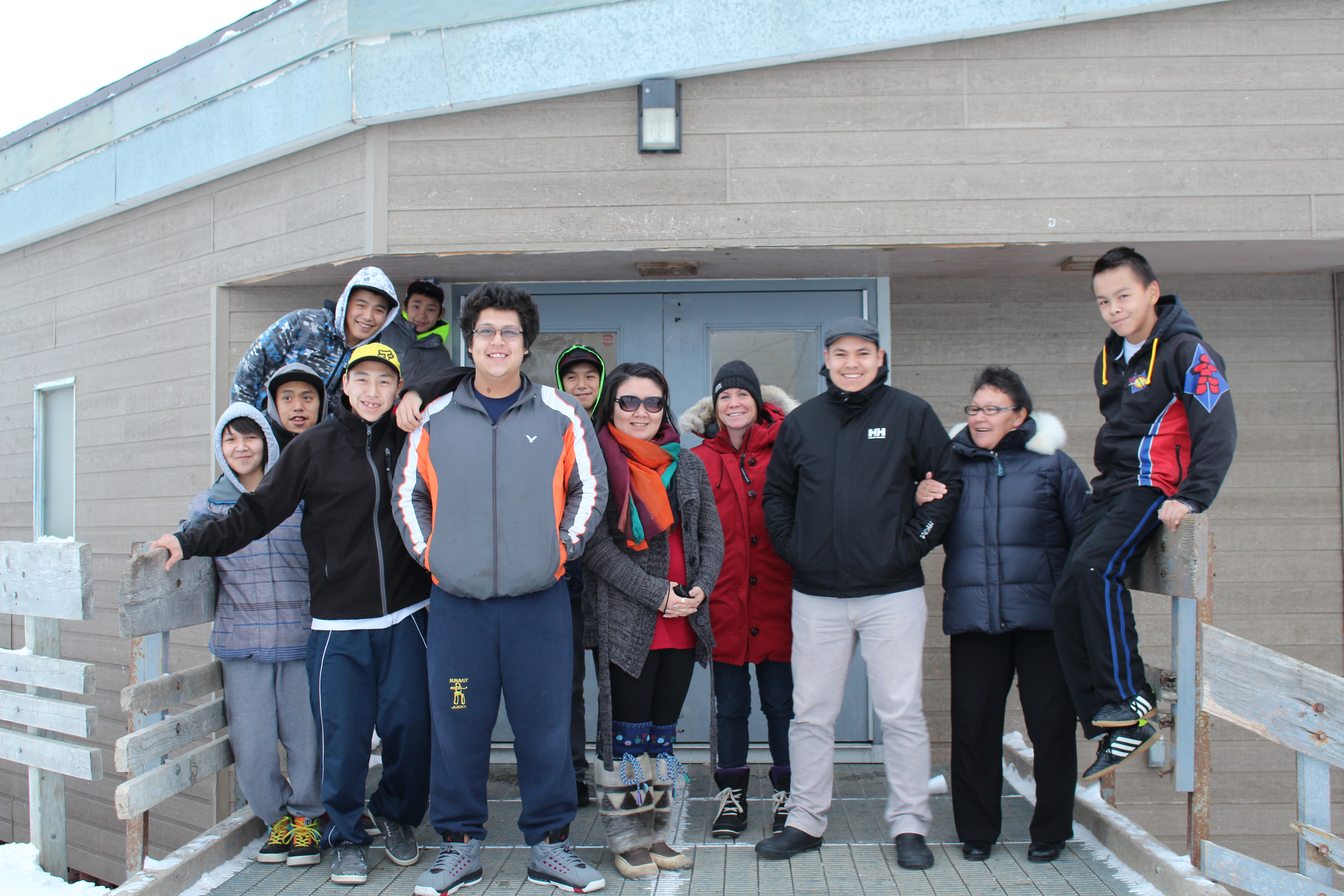 Students of the second Arctic Hope Leadership Development course inspired with hope!
Thank you for making this course possible. Bill Prankard and the Arctic Hope Project would not be able to impact Canada and the Arctic if it were not for the prayers and contributions that you have made to BPEA. We will see Canada saved and God will have His dominion in Canada.
God Bless you,
Steven Carleton