Dec 28, 2015
Arctic Russia Special Mission
Just ten days before Christmas we received a startling message from our Russian missionary, Igor Bogomol. He informed us that one of the Christian families that we had reached in the isolated Arctic Russian village of Tovopogol had experienced a devastating tragedy. The bodies of Zhenya & Nadya, parents of four children, were discovered after they drowned while out in their fishing boat.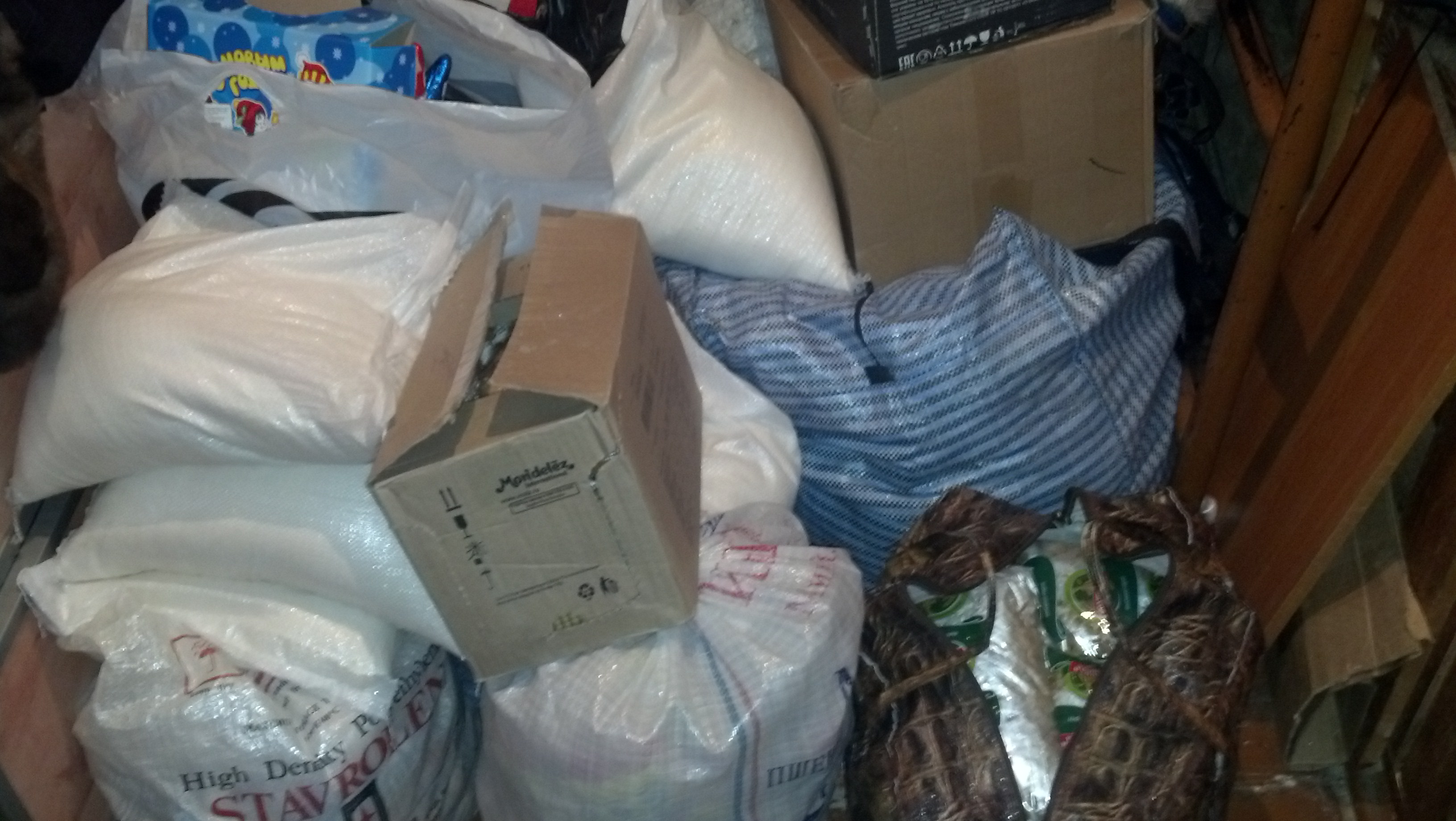 Food and clothing supplies brought to Tovopogol by Igor Bogomol.
Zhenya and his wife Nadya received Christ during one of our first missions to the region. Even after their salvation they continued to struggle with alcohol addiction, which may have contributed to their deaths. Alcoholism is a sad reality of Inuit life throughout the Russian north, and is one of the major reasons igor and his team return to the north regularly to encourage the new believers and help them live victoriously as they saturate themselves with God's Word.
Because of this unexpected tragedy we sent Igor to Arctic Russia on December 19th to minister and take aid to these orphaned Inuit children, and to help other needy families in the village as well. Igor, this dedicated man of God, was willing to forego part of the Christmas season with his own family in St. Petersburg in order to bless the north.
Since it was an unplanned mission, we sent out an urgent message via social media, asking our faithful partners to respond with a special missions offering to help with Igor's trip and to buy a generous supply of food, clothing and other aid. The response was so encouraging and within a few days all the finances were realized. God bless everyone who participated!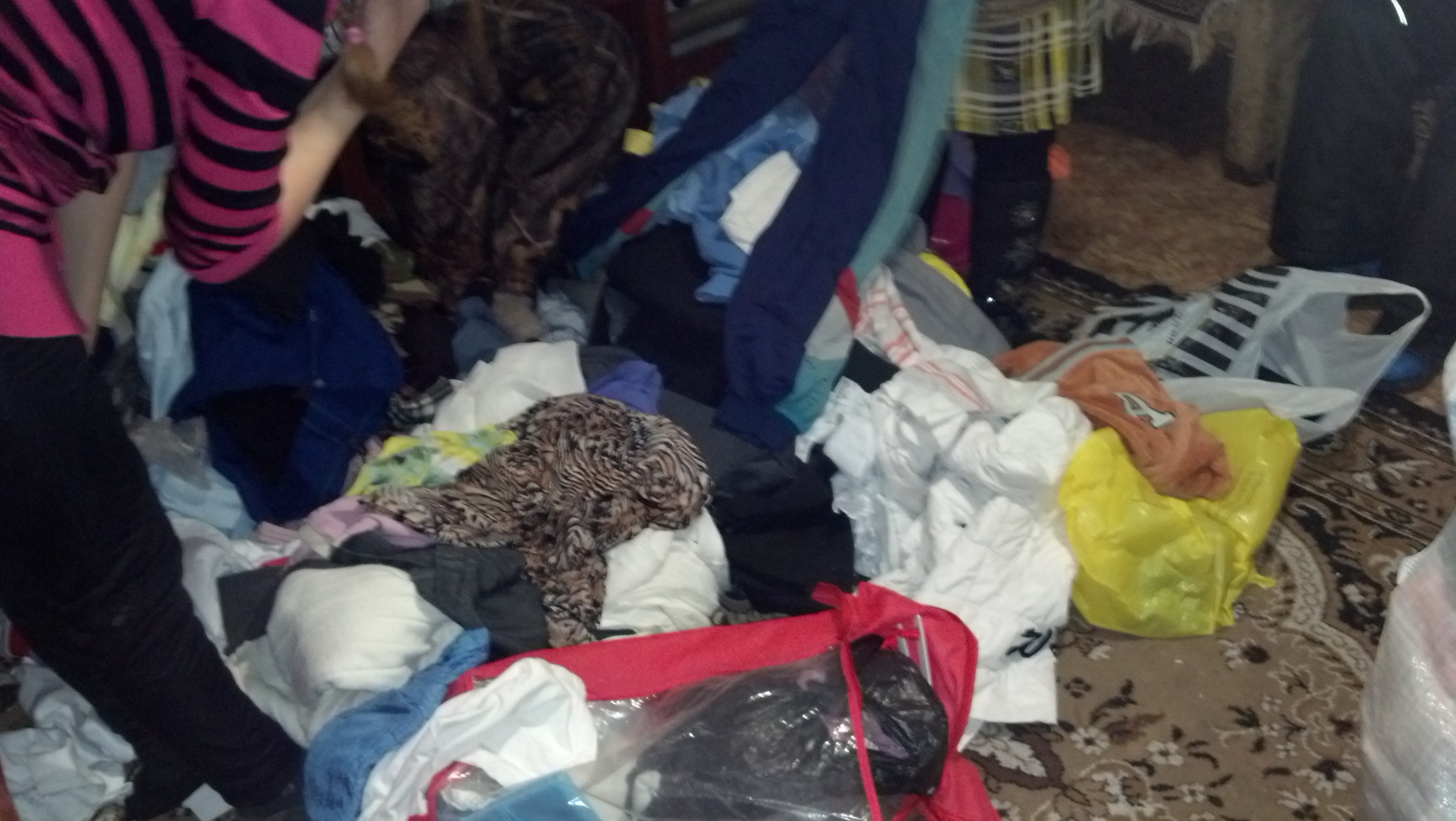 Russian families open food and clothing items sent by BPEA partners.
When Igor arrived in Tovopogol, he discovered that Dima, the eldest son of Zhenya and Nadya, was the only family member left living in the family's humble little house. A 17-year-old daughter, Diana, is in school away from home, and the remaining two children, aged 14 and 7, are being cared for by an aunt in Aksarka a nearby Arctic community. This dear lady is already struggling to provide for her own six children, yet she was willing to take in and care for her orphaned niece and nephew.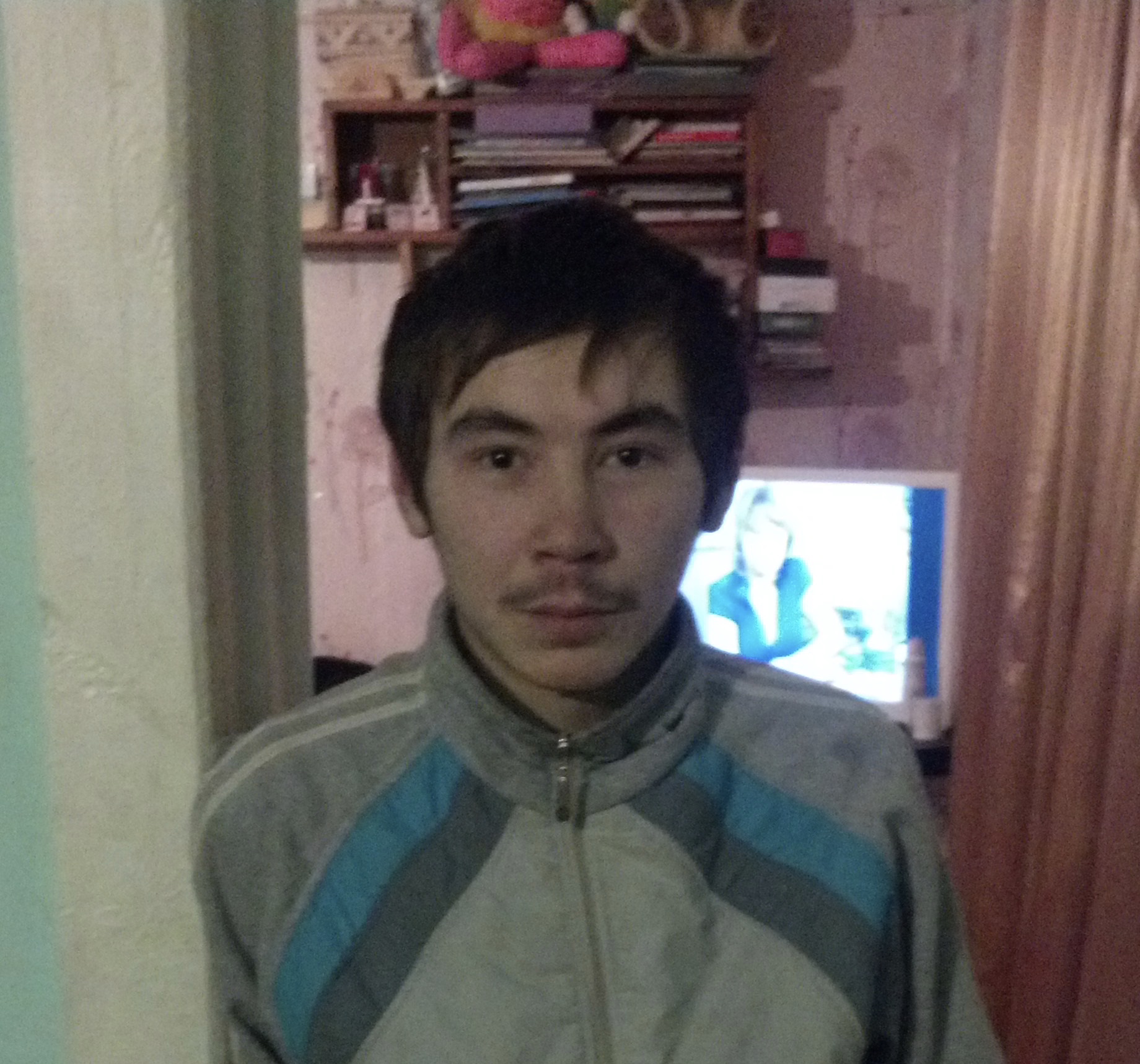 Dima, who lives in Tovopogol, is the eldest son of Zhenya and Nadya who tragically passed away last month.
Igor learned that the population of Tovopogol, where Zhenya and Nadya lived, has dwindled dramatically since his last visit. Some of the major reasons include premature alcohol-related deaths, lack of medical aid, violence and crime. One of the Christian couples that still remain are Kuzma and Klaudia, who was Nadya's sister. While they mourn their family members' untimely deaths, their own faith is sustaining them.
During his time of ministry in Tovopogol, Igor blessed Dima, Kuzma and Klaudia and their children and several more families in the village with generous supplies of nutritious food and other household staples, warm clothing, and even many gallons of gasoline to fuel the little fishing boats and other machinery so vital to the families' survival. And since it was the Christmas season, he gave out lots of gifts of chocolate to all the children and adults.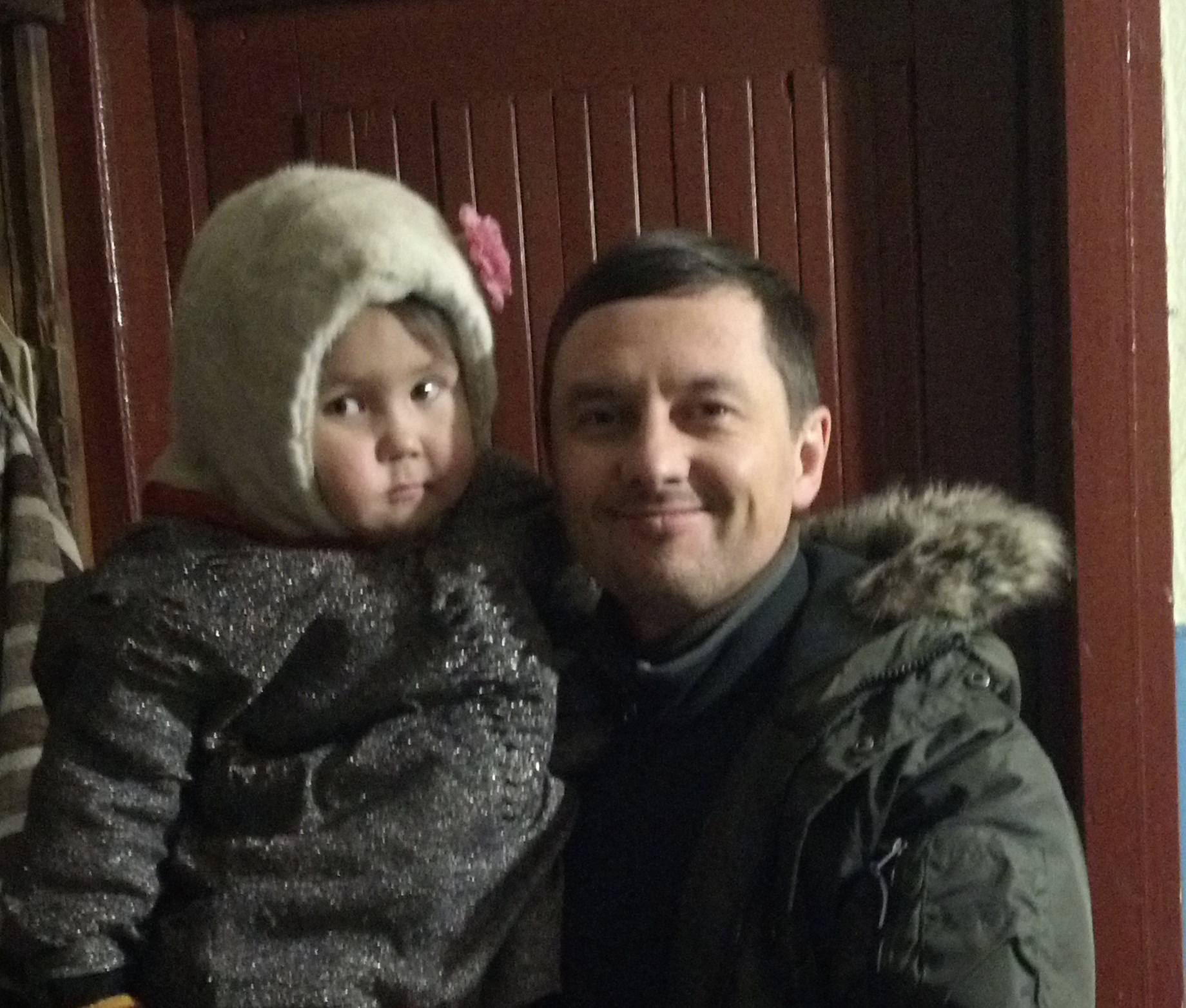 Igor Bogomol with one of the children that received gifts in Tovopogol.
Igor reported that he had a precious time of prayer and ministry with the bereaved family members. They share Igor's heart for Tovopogol, and spent quality time praying and believing God for a spiritual awakening in every heart in the village. Everywhere he went, Igor distributed Gospel tracts and shared God's Word. When he learned that a single mother, Nina, who is also a believer, had some desperate needs, he blessed her with money to help her through the extreme winter months. She had also lost her 15-year-old son by drowning in September. How thankful we are for the blessing that Igor poured into this village that has experienced so much pain.
A family hears about the Gospel and experiences God's goodness in Tovopogol.
During his journey, Igor also visited the Inuit community of Aksarka. Although Aksarka has many of the same challenges as Tovopogol, the Gospel has made a greater impact there over the past few years. There is a strong body of believers who continue to meet and fellowship together in a solid Word-filled house church, led by Evdokia. She is a wonderful woman of God who originally came to Christ through the Kenneth Copeland video ministry and literature they provide to us for the Russian Arctic DVD churches we established. She and a few other faithful Christian women have consistently served the Lord and are shining lights for Christ in the midst of great darkness.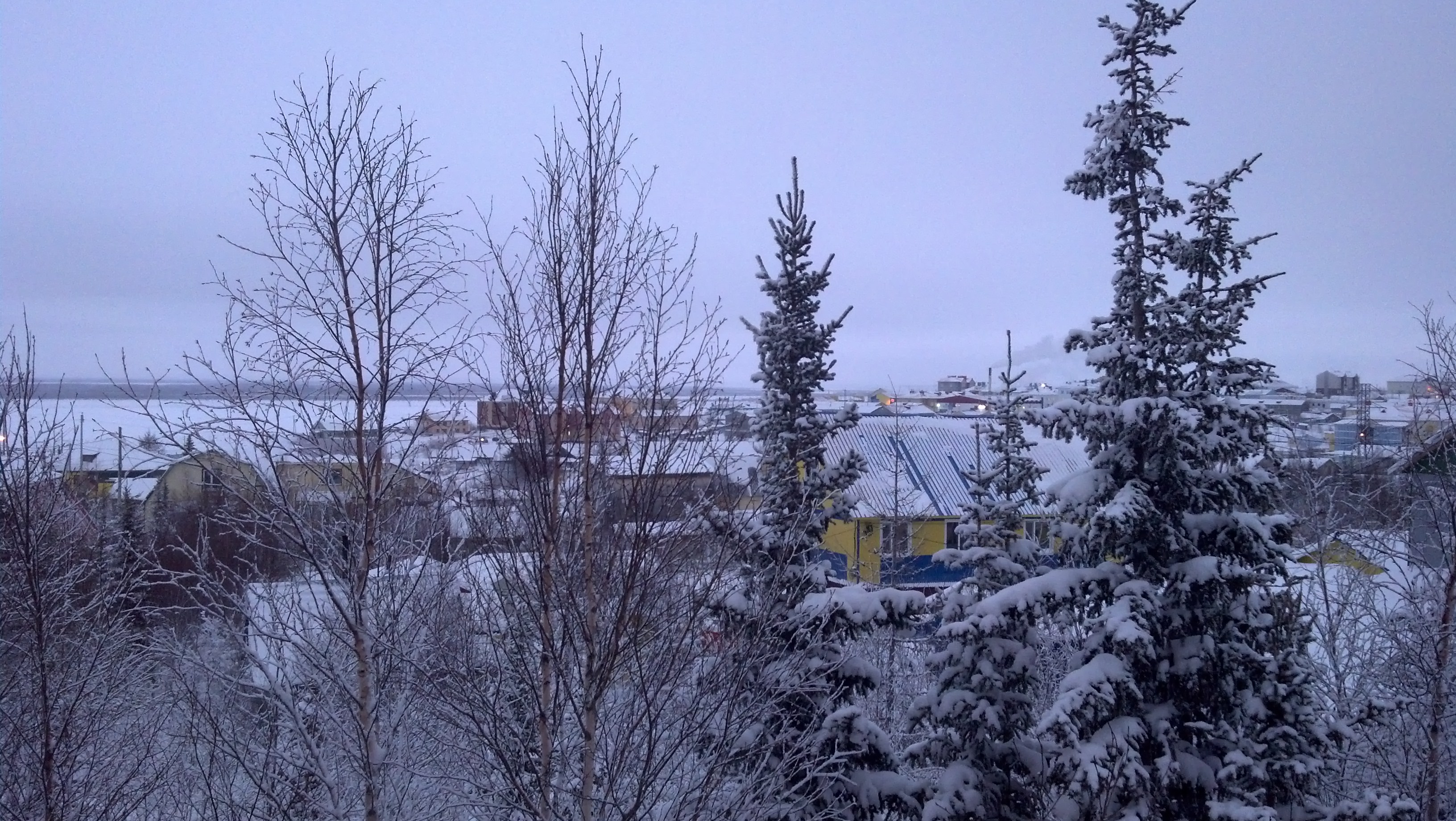 Igor arrived in Aksarka to bring food and clothing, but also to minister with those who needed comforting.
The Lord's protection was upon Evdokia and her family when they were involved in a driving accident recently. All the occupants were unharmed, but the vehicle was badly damaged, so Igor blessed them with funds for its repair.
Evdokia (on the left) is the pastor of the Aksarka house church, prays with Igor and believes for revival to break out in Aksarka.
After ministering and distributing food and supplies to several more people, Igor enjoyed a wonderful time of worship, prayer and fellowship with Evdokia and the church members. He returned to his home in St. Petersburg, knowing that many precious Russian Inuit people have been helped practically, emotionally and spiritually. Thank you Igor for helping us reach souls and bless lives through your vital ministry to the ends of the earth!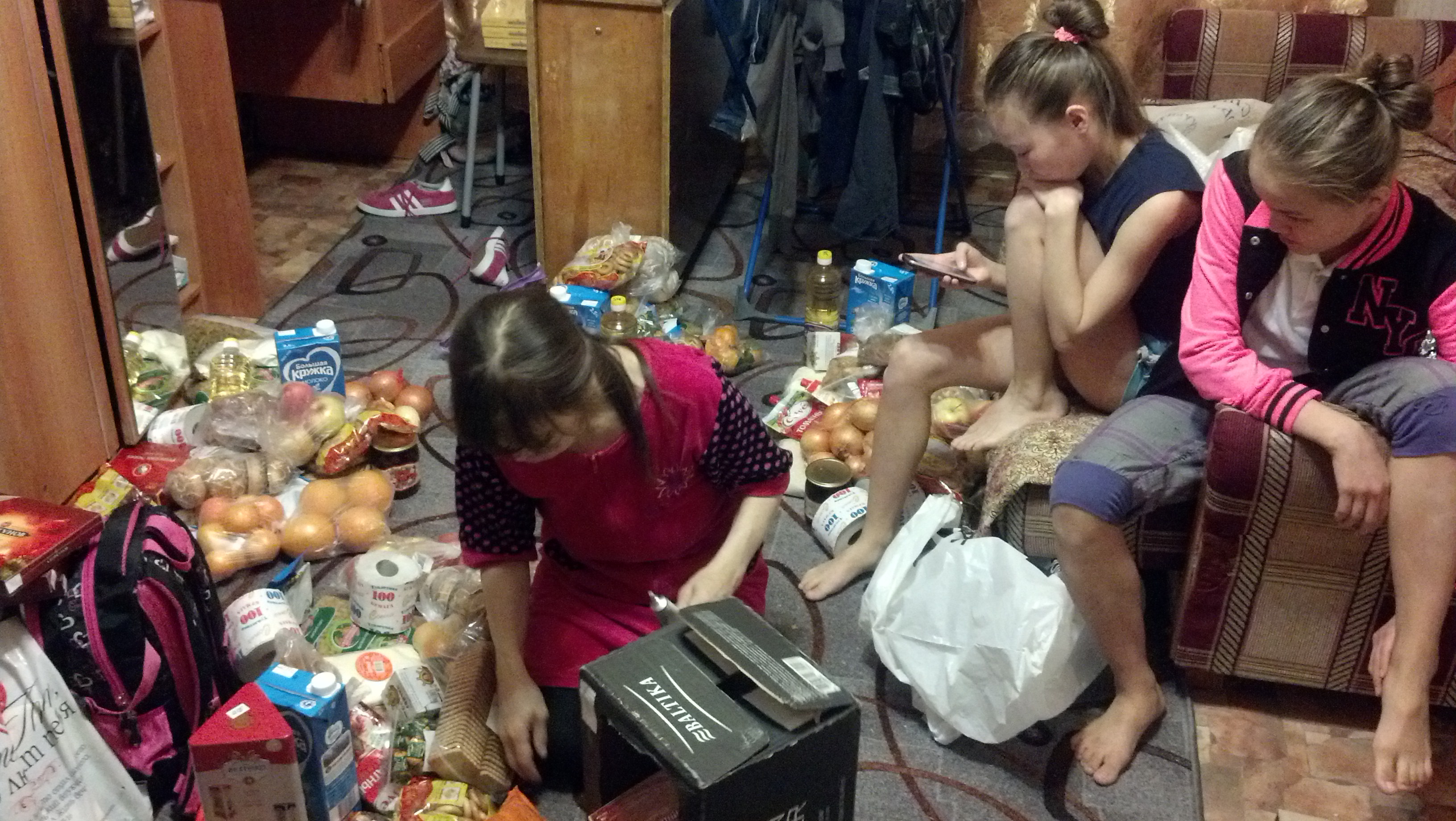 A Russian family in Aksarka opens gifts and food delivered by Igor Bogomol and sponsored by BPEA partners.