Apr 26, 2016
There is hope for Cross Lake!
Steven Carleton and Travis Holownia of Resurgence Ministries have just returned from Cross Lake, MB. They were asked to go on behalf of 100 Huntley Street. In the month of March there was a surge of close to 140 suicide attempts within two weeks. Cross Lake, MB, has a population of close to 9,000 members living on reserve, and 55% of the population is under 25 years of age.
Steven and Travis arrived in Cross Lake on Thursday, April 21st.
They flew into Cross Lake on Thursday afternoon and returned Sunday afternoon. On Thursday night, they had a youth service at one of the local churches and close to 16 young people came to the service. Steven shared his testimony about God healing him from abuse, and Travis and Steven ministered to a few of the young people afterwards. One of the girls felt that she needed to forgive her mother, and Steven and Travis prayed with her.
On Friday morning the two had a meeting with the Chief of Cross Lake, and brought a gift on behalf of BPEA and 100 Huntley Street. Travis and Steven inquired about why she felt that there were so many suicide attempts last month, and she shared her thoughts and opinions. She talked about some of the factors including housing and lack of education, but she also mentioned that many elders and youth had dreams of a "Black Spirit" that hovered over Cross Lake during the massive influx of suicide attempts. She said that she felt that there was something evil and indescribable during the month of March. The meeting was over an hour long, and they prayed for the Chief as she recently had knee surgery. She said that she appreciated us coming to Cross Lake and welcomed us.
During the afternoon, Steven and Travis met with the high school principal, and asked for his thoughts and opinions on why there were over 100 attempted suicides last month. The principal shared his thoughts, but said that the lack of education and educational support for teenage students was mammoth. He said that currently there are over 500 students who cannot be taught due to lack of teaching capability and limited school space. The schools are simply too small for the amount of students in the reserve. As a result, youth spend their days without direction, purpose or hope for the future.
There are close to 4,500 young people under 25 years old in Cross Lake.
A team from Catch the Fire, Winnipeg flew to Cross Lake on Friday afternoon, and we spent a good portion with them ministering to community members who were at the Grand Opening of a new gas station and gaming centre. There were over 1,000 people that attended, and the CTF team presented the Chief with a gift. She welcomed them to the community, and we took advantage of the amount of people there so we continued to minister as the Lord lead us.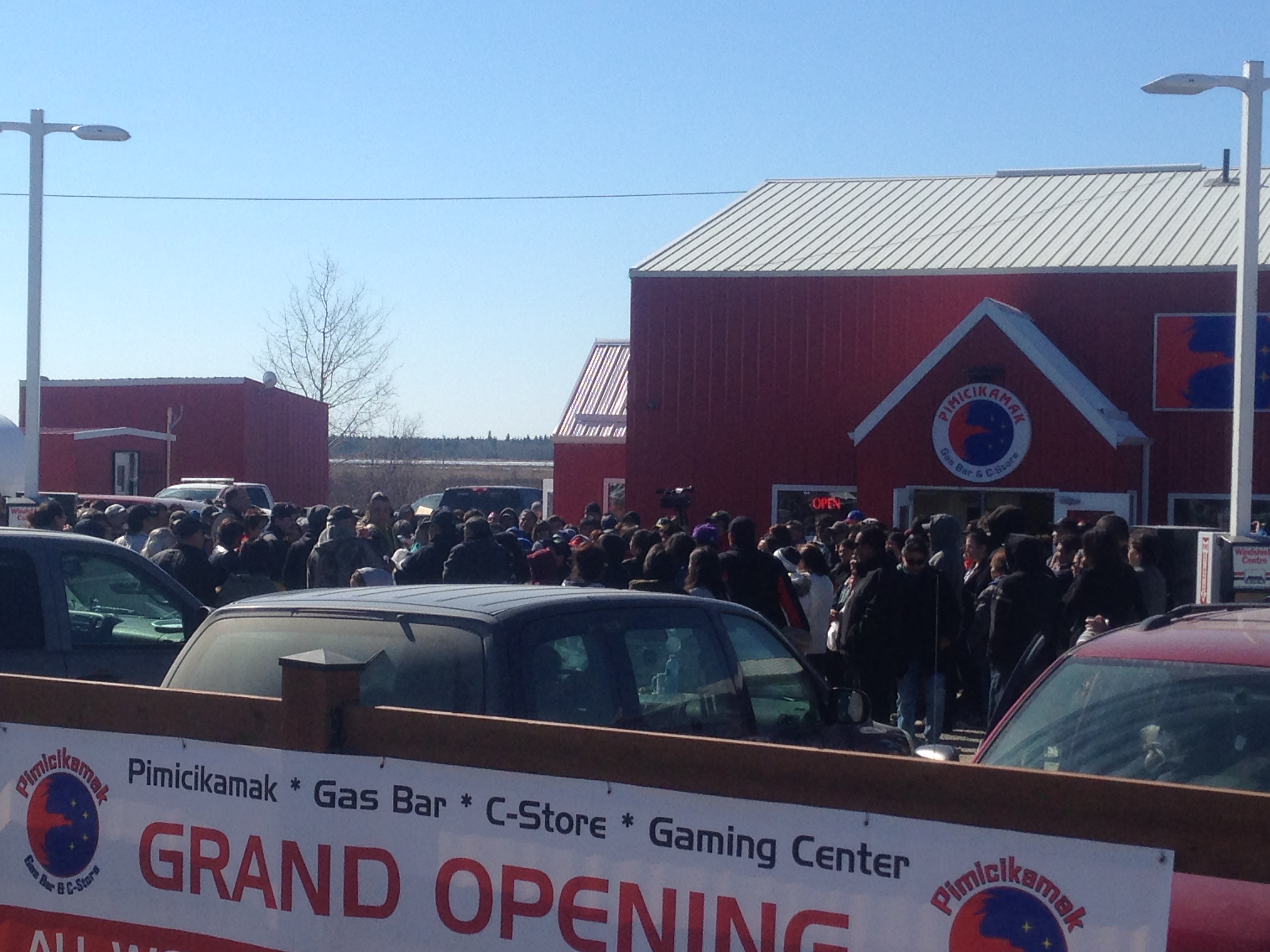 Steven, Travis, and the team from Catch The Fire Winnipeg ministered to community members during the opening of the Gas Bar.
One of them was one 13-year-old boy who Travis and a few others prayed for. He said that he had pain in his stomach and that the nursing station was very concerned about this, because they found a growth in his stomach. Travis and some of the Catch the Fire team prayed for him and believed that God would heal this boy. During the evening youth service, the 13-year-old boy came. He told us that he went to the nursing station after we prayed for him, and the nurses found no more growth in his stomach. The boy said that he felt no pain before going to the station, and that is why he went to see the nurse. During the service the boy began to hear demon voices in his head, and the team ministered to him. Travis heard the Lord tell the boy that he needed to forgive his father, and that the Lord would help him do that. The boy said that he would never forgive his dad because at the age of three, his father attempted to kill him. He told Travis and the other man praying with him that he has never even said his father's name. They prayed that the boy be filled with the love of God, and then the boy felt peace! He immediately forgave his father and then began to see angels in the church among us! He even began to prophecy over his friends, and over Travis and the other man who ministered with Travis.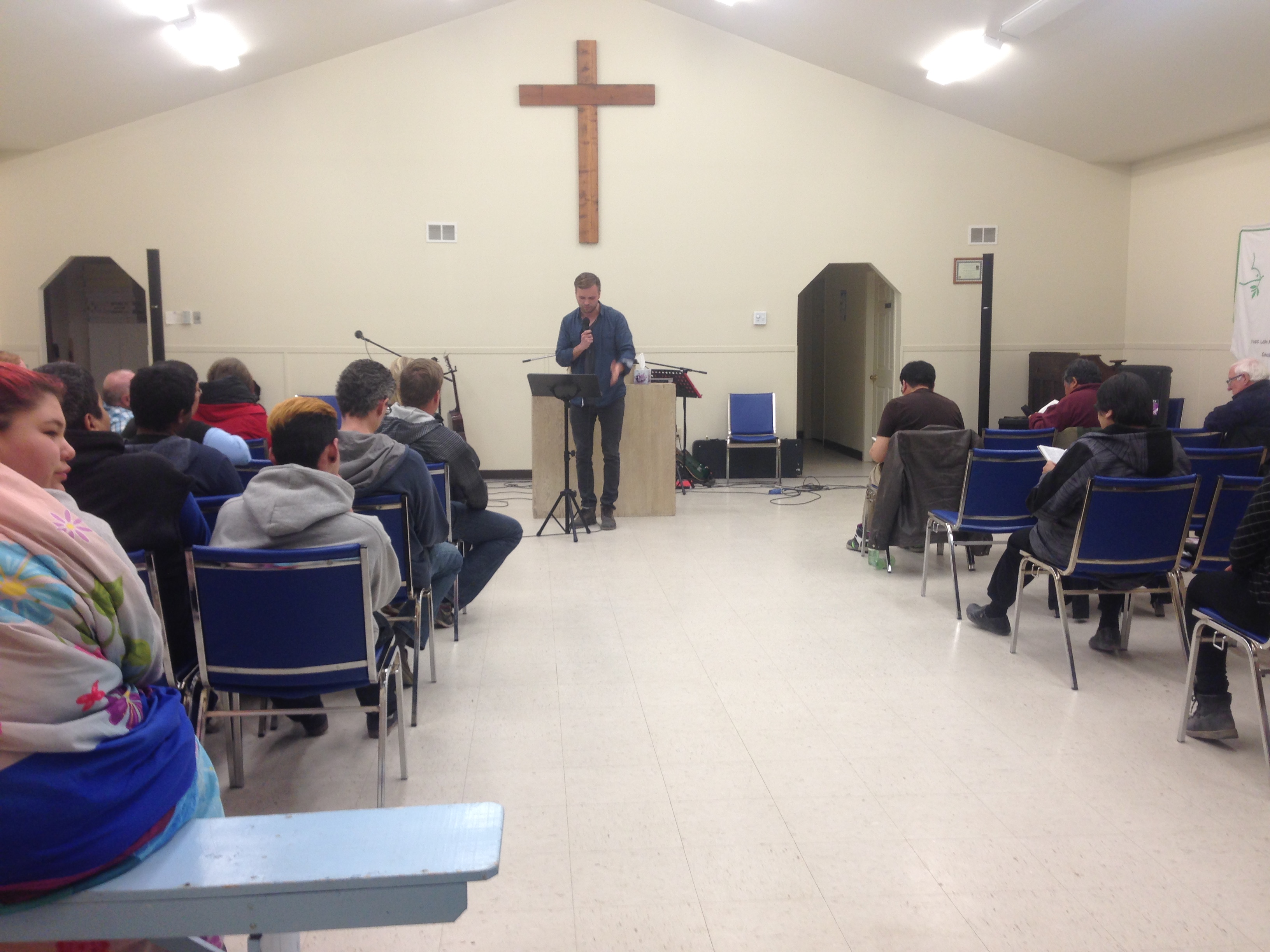 Nearly 40 young people came and encountered the love of God for the first time on Saturday night!
There were at least 16 salvations during the youth service, and over 35 young people came to the Saturday night service. Each young person received prayer, and many youths felt the peace and love of God for the first time.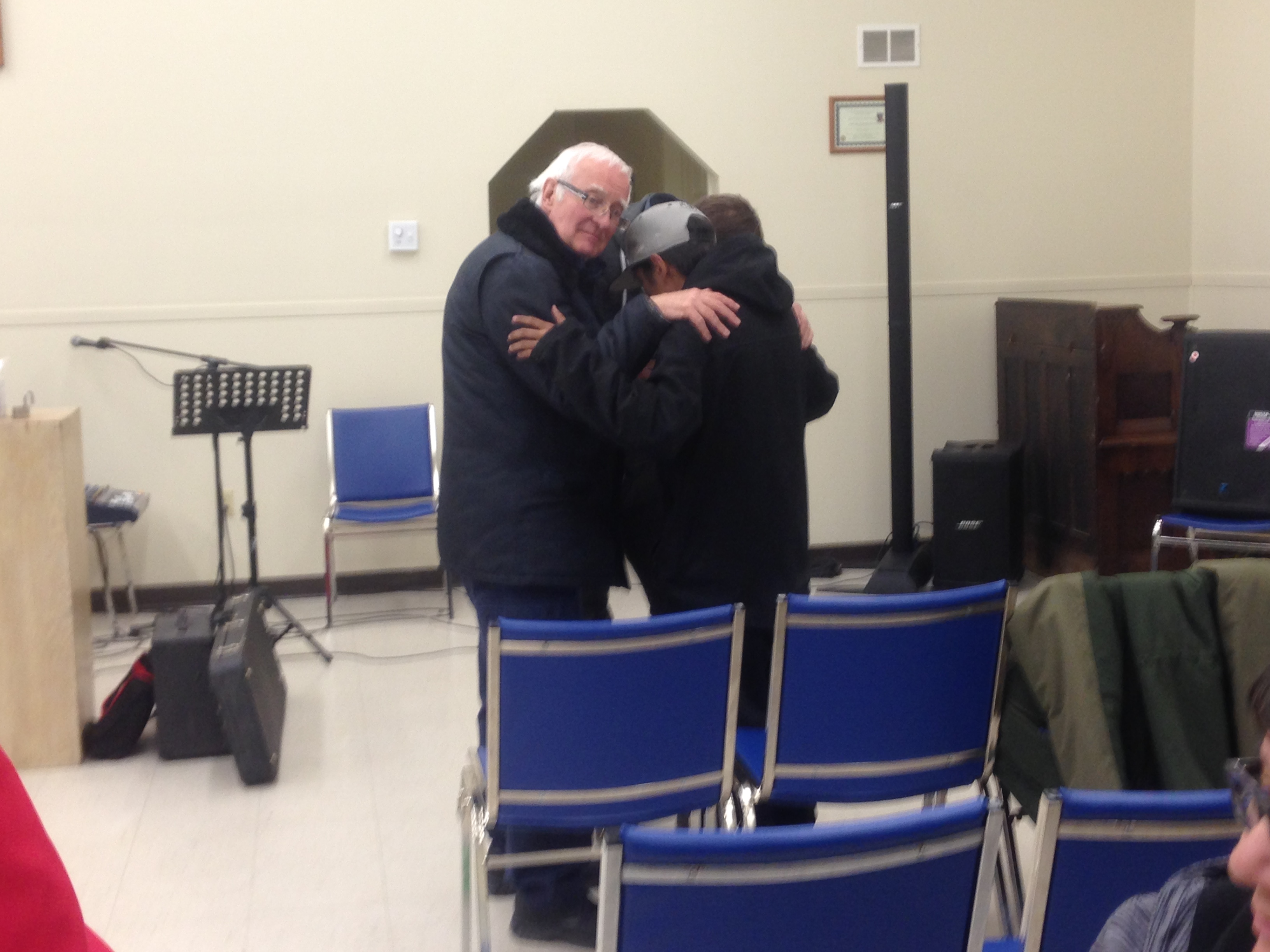 Travis Holownia and Keith Miners ministered to a 13 year-old-boy who heard God's voice for the first time, and then forgave his father!
"There is Hope" was the name given to the meetings that were held. Young people encountered the goodness of God, and we spoke life over the reserve. There is a hunger in Cross Lake that can only be satisfied by the power and love of God. We know that God is not finished with Cross Lake, and that His purpose is that each person encounters His Goodness and that they would be transformed.
Thank you for partnering with BPEA and Arctic Hope, Canada shall be saved!