Jul 22, 2016
JOURNEY THROUGH THE LAND OF THE BIBLE
I am blessed to be in Israel with our two daughters, Meg and Lori. We arrived in Tel Aviv mid-afternoon on Friday and went to our hotel to freshen up just in time for a wonderful Shabot dinner with Avi Misrachi and some of his family. After a good sleep, I had the privilege of ministering to the Adonai Roi Congregation that Avi leads.
Bill Prankard and the Adonai Roi Congregation dance and Praise the Lord together!
In my message, I encouraged them to speak LIFE and BLESSING over Tel Aviv, as I shared from Ezekiel 37, which tells the story of the valley of dead, dry bones coming to life. The vision represents Israel, and I pointed out that, in order for the bones to come to life, God needed someone to prophecy to the wind. He did the miracle, but He used a person to activate the miracle. He works the same today. He still does the impossible when somebody is willing to stand up, speak up, and declare God's purpose.
After a relaxing Saturday afternoon, we took an evening walk along the Mediterranean Sea to the ancient port of Joppa, where Jonah tried to run from God's call. It is also the place where Peter had the vision of all sorts of animals being lowered down in a sheet, and realized God was showing him that the Gospel was for all people, and not just the Jews. That evening, we enjoyed a lovely dinner as we watched the sun set over the sea's horizon.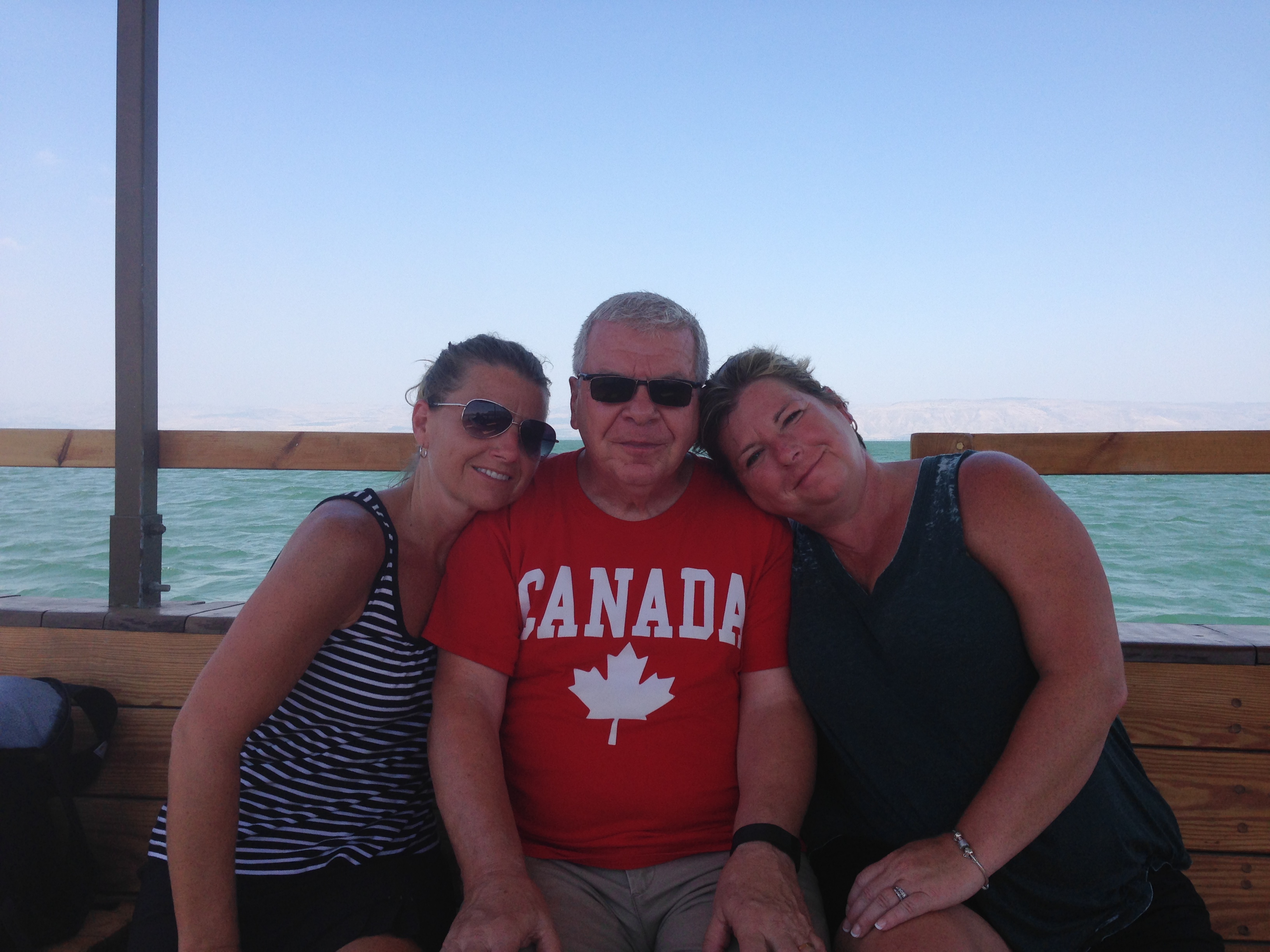 Bill and his two daughters at the Mediterranean Sea where many Bible stories had occured!
On Sunday morning, after a wonderful Israeli breakfast, we drove north along the Sea to the ancient city of Ceaserea, and took time walking through the ruins of this once great Roman city. Meg and Lori and I sat in the amphitheater which is still very much intact, and read Acts 10 and took time in prayer to thank God for Cornelius, who lived here, and Peter who cane here. Both of these men were willing to take a risk as Peter preached to the Gentiles, and Cornelius was the first to receive and act on the message that opened up the Gospel and Holy Spirit's power to all of us Gentiles.
After lunch we drove to the top of Mount Carmel, the place where Elijah called down fire that destroyed the prophets of Baal. Here we thanked God that He is a God of the impossible and that He can do what no one else can do.
From Mount Carmel we drove to the Sea of Galilee and to the place that will be our accommodations for the next few nights, on the top of the Mount of Beatitudes. I am so aware that Jesus not only delivered the greatest sermon ever from this place, but spent entire nights up here praying.
Each time I come everything seems so fresh and new, and I am receiving so much from Him already. Wherever we go, we are praying for our partners, and as I am being refreshed here in God's land, I pray that you will receive His refreshing too!