Jul 27, 2016
The Mountains of Israel!
Our climb up the Mount of Beatitudes earlier this week was merely preparation for the major challenge of today's climb up Mount Tabor. I was so proud of both of my girls, who, in spite of the sun and heat, and the physical exertion required, made it to the top with me. As we scale mountains and walk through rugged terrain each day, I marvel at the stamina that Jesus and His disciples must have had, as they did this as a matter of course every time they traveled from one place to another!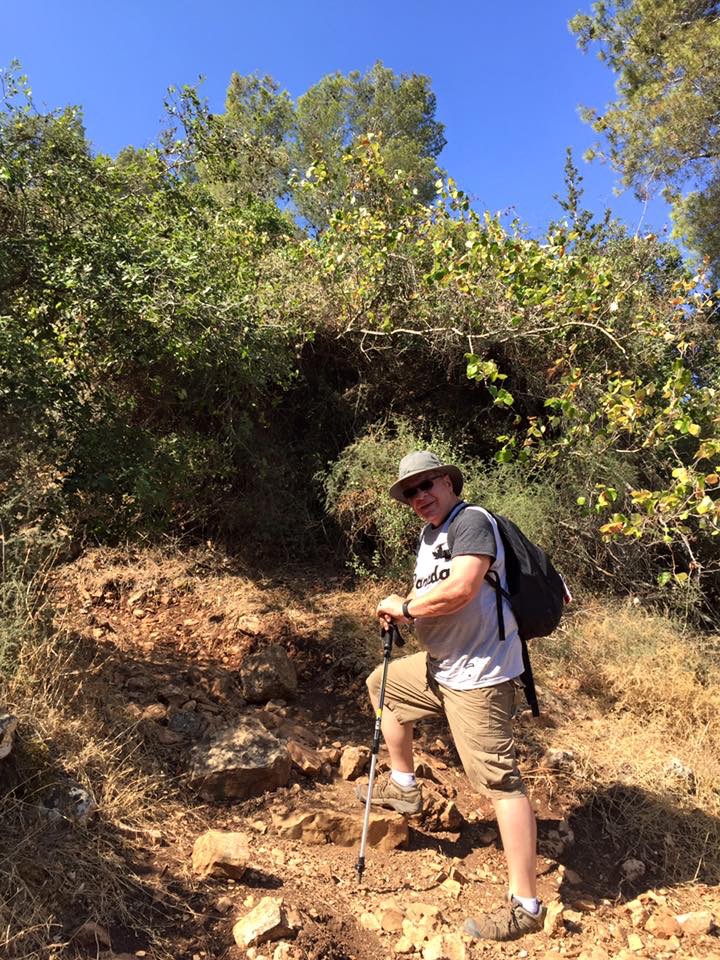 Bill Prankard as he climbs Mt. Tabor with his daughters!
Meg, Lori and I began our day with another delicious Israeli breakfast, and drive to the base of Mount Tabor. Matthew 17 gives the account of the most significant mention of this mountain. The Scripture says Jesus took His disciples up "a high mountain," and it is almost certain that it was Mount Tabor, which is the highest mountain in the area.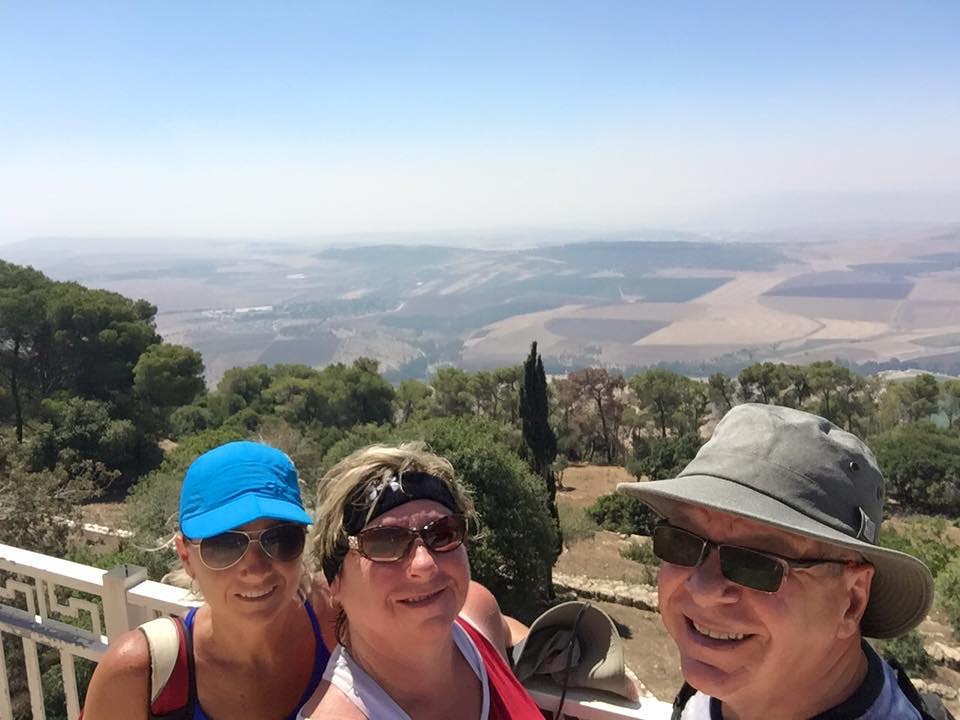 Bill and his daughters at the top of the mountain that Jesus and his disciples climbed!
It took us nearly two hours to make the climb, as we stopped occasionally to rest, re-hydrate and regain our strength. The effort was well worth it, as we reached the top, played worship music, and read the account of Jesus revealing His glory to the disciples.
The view atop Mt. Tabor where Jesus and His disciples climbed and His glory was revealed.
You will recall that the disciples were so overwhelmed by this revelation that Peter impulsively suggested they build three tabernacles – one for Moses, another for Elijah and the other for Jesus. The Message Bible describes the Lord's response so aptly: "While he was going on like this, babbling, a light – radiant cloud enveloped them, and sounding from deep in the cloud a voice: "This is my Son, marked by my love, focus of my delight. Listen to him." (Matthew 17:5). While Peter, James and John were seeing Jesus as one of three great prophets, the Father reminded them that Jesus was not just another great man, but the Messiah, the Son of God, and our focus must always be on Him.
Once again we had a special time of prayer for our families and for our partners, then spent precious time in this significant setting, soaking up the presence of God as we listened to Rob and Kelley Augi's beautiful worship CD. When we finally walked back down the mountain, we drove into Nazareth and had lunch near Mary's Well. Since this well is known to have been the water source for Nazareth in Jesus' day, we can be quite certain this is where Mary would have come to draw water. In Bible times Nazareth was quite small, and since it was Jesus' home town, we know He would have already walked everywhere we walked. What a comforting thought, to know that, whatever circumstance we find ourselves in, Jesus has already been before us, He understands what we feel, and He brings us through in victory!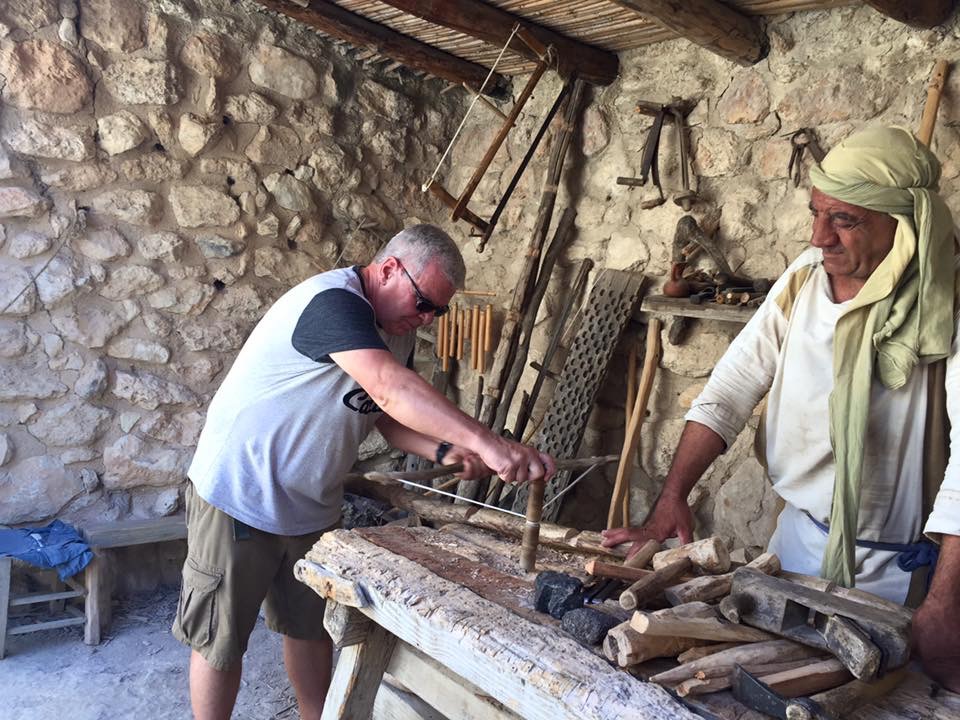 Bill Prankard was put to work in the Carpentar's shop!
One of the interesting highlights of our time there was a visit to Nazareth Village, a re-creation of village life in Jesus' day. All of the 'villagers' were dressed in the costume of His day, and donkeys, sheep and other animals roamed as they did two thousand years ago. Shop keepers, shepherds, weavers and trades people went about their daily activities, including a carpenter working in his shop, just like Joseph and his son Jesus did. What a vivid picture of the life and times of our Saviour!
The guide who took us through the village provided fascinating insights into the customs and activities of the time period, and clearly shared the Gospel throughout his talk. It was a wonderful experience, especially knowing that Jesus continues to be revealed to those who have ears to hear.
Tonight we are enjoying our final dinner at our accommodations on the Mount of Beatitudes before turning in for the night. Tomorrow is a big day, as we head south through Israel, toward Jericho and the Dead Sea area. The adventure continues!