Jul 29, 2016
THIRSTING FOR THE WATER BROOKS
Today my daughters and I made the biggest and most challenging climb of our journey, as we scaled an En Gedi mountain that overlooks the Dead Sea. These are the same hills and mountains David climbed as he sought a place of hiding and refuge from Saul and his armies. We were exhausted by the time we reached the top, which took us about an hour and forty five minutes in the morning heat of 38 degrees Celsius.
Bill Prankard climbing an En Gedi mountain in the sweltering Israeli heat!
There, we spent some time in a cave, like the cave of Adullam David used, praying and soaking in God's presence as we listened to Shawn & Amy Dayton's CD consisting of the Psalms, set to music. During our climb we had spotted several ibexes, a mountain animal not unlike a deer. The words of David in Psalm 42:1,2 took on special meaning for us: "As the deer pants for the water brooks, so pants my soul for You, O God. My soul thirsts for God, for the living God."
We felt both physical and spiritual refreshing as we relaxed in the cooling, natural spring pools and waterfalls. Before I visited this area three years ago, I had imagined David's hiding place as only a dark, dingy cave, but after experiencing this peaceful, rejuvenating oasis, I more fully understood how he could pen such beautiful Psalms about God's peace, protection and provision in the midst of trouble. Although he was a mighty man and fierce warrior, his passionate heart is revealed as he worships, sings and pens praise to the living God.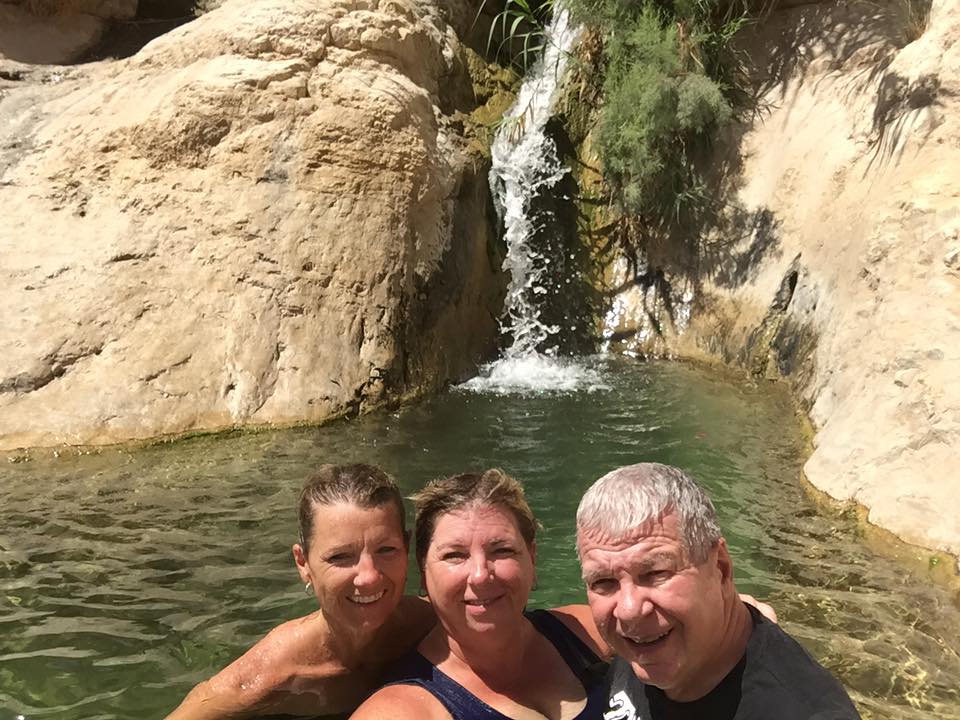 Natural fed pools where David refreshed himself while running away from King Saul!
In this place of solitude and safety in the cleft of the mountain, David wrote 2 Samuel 33-37: "As for God, His way is perfect; the word of the Lord is proven; He is a shield to all who trust in Him. For who is God except the Lord? And who is a rock, except our God? God is my strength and power, and He makes my way perfect. He makes my feet like the feet of deer, and sets me on my high places. He teaches my hands to make war, so that my arms can bend a bow of bronze. You have also given me the shield of Your salvation; Your gentleness has made me great. You enlarged my path under me, so my feet did not slip"
The entire journey, including our descent to the mountain's base, took four hours. We returned to our Kibbutz accommodations, filled with wonder and thanksgiving, knowing that the Lord, the Creator of heaven and earth, mountains and waterfalls, sees and cares for each one of us personally.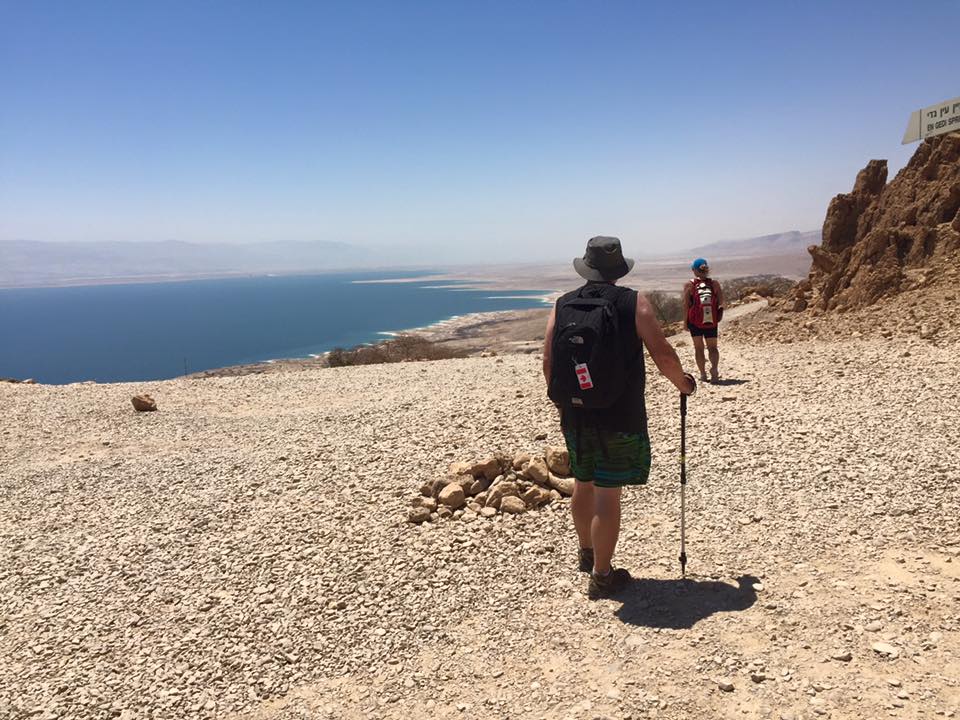 Bill Prankard and his daughters conquered an En Gedi mountain top that overlooks the Dead Sea.
We relaxed and enjoyed another wonderful Israeli meal before turning in for the night. After such a strenuous climb, we recognized the importance of giving our bodies time to recover and prepare for our trek up Masada tomorrow morning. We will get a very early start, around 4:30 am, to avoid climbing during the intense heat later in the morning. Masada is such a significant place for the Israeli nation – but I'll tell you all about that in my blog tomorrow!