Aug 02, 2016
WHY THERE MUST BE AN ISRAEL
Every person who does not know Jewish history should take the journey my girls and I just completed today. On this, our final day of an amazing two-week trek through the Land of the Bible, we visited one of the most sobering places in the nation of Israel.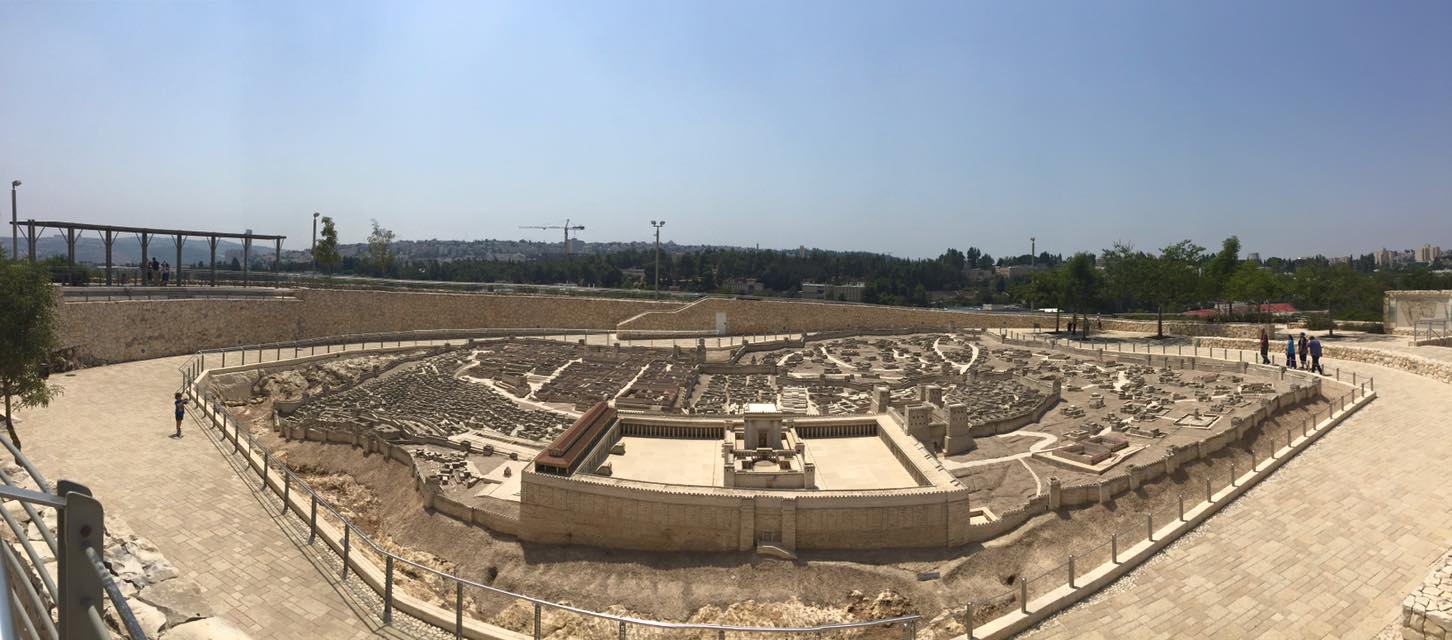 A model of what the Old City of Jerusalem would have looked like!
Yad Vashem, a haunting museum and memorial to the holocaust that stands amid the modern section of Jerusalem, represents both unspeakable evil and glorious hope. It gets its name from Isaiah 56:5, "Even to them I will give in My house and within My walls a place and a name (yad vashem) better than that of sons and daughters; I will give them an everlasting name that shall not be cut off." We spent four hours viewing stark pictures, videos and artifacts of the horrific days when Jews were rounded up, treated worse than animals, and for six million of them, ruthlessly slaughtered. We listened via video to survivors recount their stories of the horrors they endured and the grief they carrty from losing many members of their families.
Meg and Lori were both well aware of that dark period of history, and I reminded them that the holocaust didn't begin with the death camps. In the years prior, Hitler introduced policies like euthanasia of the elderly, disabled and mentally delayed, and performed 'scientific' experiments on those who were helpless to object. He spoke of creating a 'Utopia' through 'purifying' the while race by cleansing the world of other races, cultures, religions and people who were less than his idea of perfection. By creating a culture of anti-Semitism, hate and fear, the population blindly followed and hailed him as their hero.
Even the state church (Lutheran) succumbed and blindly followed Hitler's policies, and, according to Dietrich Bonhoffer, an outspoken Lutheran priest and defender of the faith, substituted Hitler for Jesus. Bonhoffer refused to bow, and ultimately became the last martyr of that dark period.
I can't help but compare those early days of Hitler's regime to today. The value of life is now decided by the government, with our nation's policies (or lack of policies) on abortion and euthanasia. Biblical principles on family, and the pronouncement that every person is precious in God's sight, have been disregarded and considered outdated and even dangerous. Anti-Semitism is raising its ugly head again in many nations. Several survivors of the holocaust stated in the video that their parents naively believed Germany's policies would not deteriorate further, that it could not get any worse. Within months they were rounded up and the holocaust began. Even Canada had a policy of "None is too many," concerning taking in refugee Jews, and turned away shiploads, including children. Canadians need to wake up to what is happening today. Let's not allow governments to decide what we believe; we must stand up for truth and righteousness.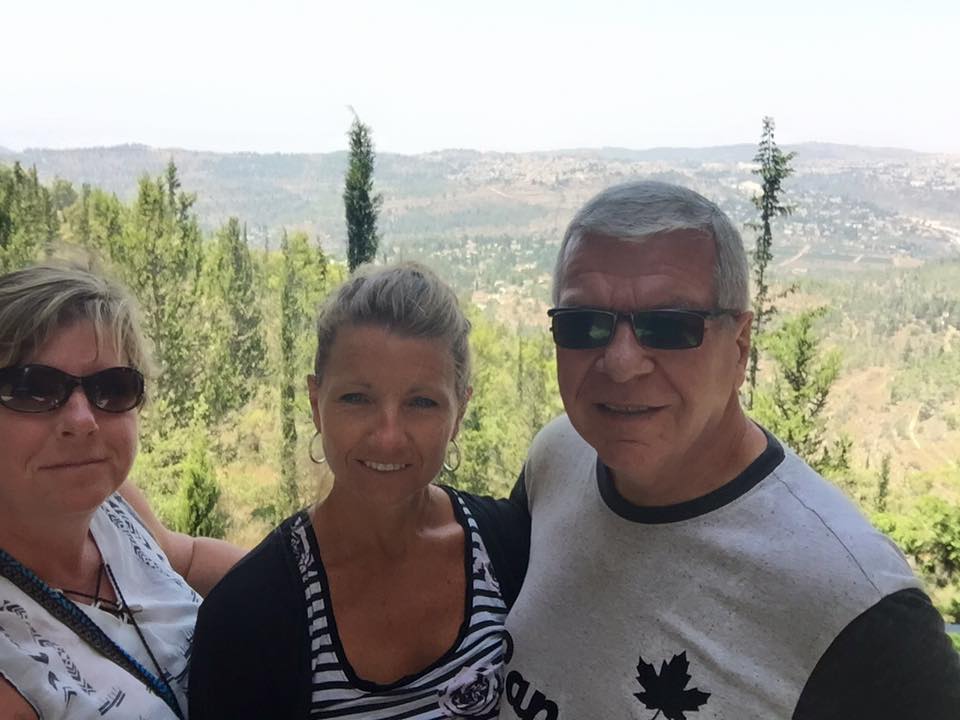 Bill, Meg and Lori after the tour of the Yad Vashem overlooking a vibrant Israel!
The walk through the heartbreaking images of Yad Vashem ends with the exit opening up to a glorious view of the new city of Jerusalem, with its imposing new structures, bustling commerce and signs of progress and hope everywhere. We left with a renewed conviction that Israel must exist as its own nation, where Jews have the right to live with the protection and freedom they deserve, where they can fulfill their God-given destiny. We as Christians must defend their right to exist, and obey God's decree to us to bless Israel, and in turn, receive His blessing.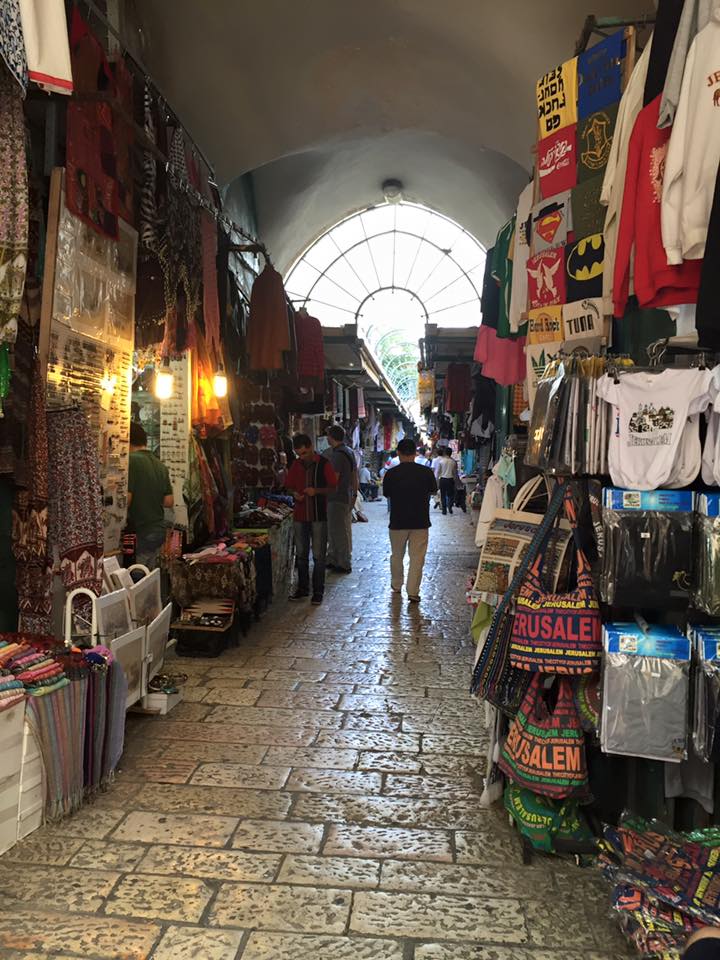 The Old City in Jerusalem!
After lunch we drove to the exhibit of the Dead Sea Scrolls that were discovered in caves near the Dead Sea, that we visited earlier in our journey. Many portions of original Old Testament manuscripts are on display and attest to the authenticity of God's Word. We also viewed a spectacular model of the city of Jerusalem as it was during Jesus time.
The girls did some last-minute shopping in the Old City before taking a couple of hours to rest and pack in preparation of our flight home tonight. The most important things we will carry back are the wonderful memories of our visit to this beautiful land where Bible history has come alive for us!