CURRENT PROJECTS
ARCTIC HOPE PROJECT:
With God's miraculous provision through the generosity of partners and Arctic Hope's strongest ministry partner, Crossroads Communications, we are able to launch the Arctic Hope Project beyond our present target community of Cape Dorset, NU, to two additional communities this year: Pangnirtung and Naujaat.
2018 MANDATE: ARCTIC HOPE TOUR!
We have scheduled the most aggressive year of Mission endeavours ever for 2018. In addition to conducting more Arctic Hope Project courses than in past years, Steven Carleton will visit every community in Nunavut that has a high school, in order to connect with and reach the youth with the message of HOPE in Jesus Christ. In each high school he will share his dramatic testimony of overcoming the trauma of sexual abuse, and then conduct youth services in the evenings. We believe suicide can be eradicated in Nunavut, as young people receive healing and hope, and are filled with purpose to bring change to their generation.
Steven will also facilitate the Anaana Project – a counselling and mentoring program for the thousands of single mothers in the north, many of whom are teenagers who are overwhelmed with the daily care of their children while dealing with inner struggles that only Christ can heal. With your prayers and partnership, and through the power of the Holy Spirit, Nunavut shall be saved!
Cape Dorset, NU: JULY 14-21; OCTOBER 27-NOVEMBER 3
We are now in the 3rd year of our 5-year commitment to the youth of Cape Dorset, NU, conducting the Arctic Hope Project. The Project takes place 2 times per year, with ten young people chosen each time. The week begins with a dynamic all-Inuit led Youth Conference, with James & Looee Arreak leading worship and ministering to the hearts of youth. Steven Carleton shares his powerful story of God's intervention in his life after being sexually abused by a church leader, and how he learned to forgive and move forward.
In the course sessions, Reepa Evic-Carleton, a highly qualified Inuit counsellor and Spirit-filled believer, helps the young people move past the traumas and issues of their past. Steven Carleton and Inuit elder Tagak Curley introduce the young people to God's plans for their future, and provide valuable teaching tools to see them become effective leaders.
Pangnirtung, NU: JULY 30-AUGUST 5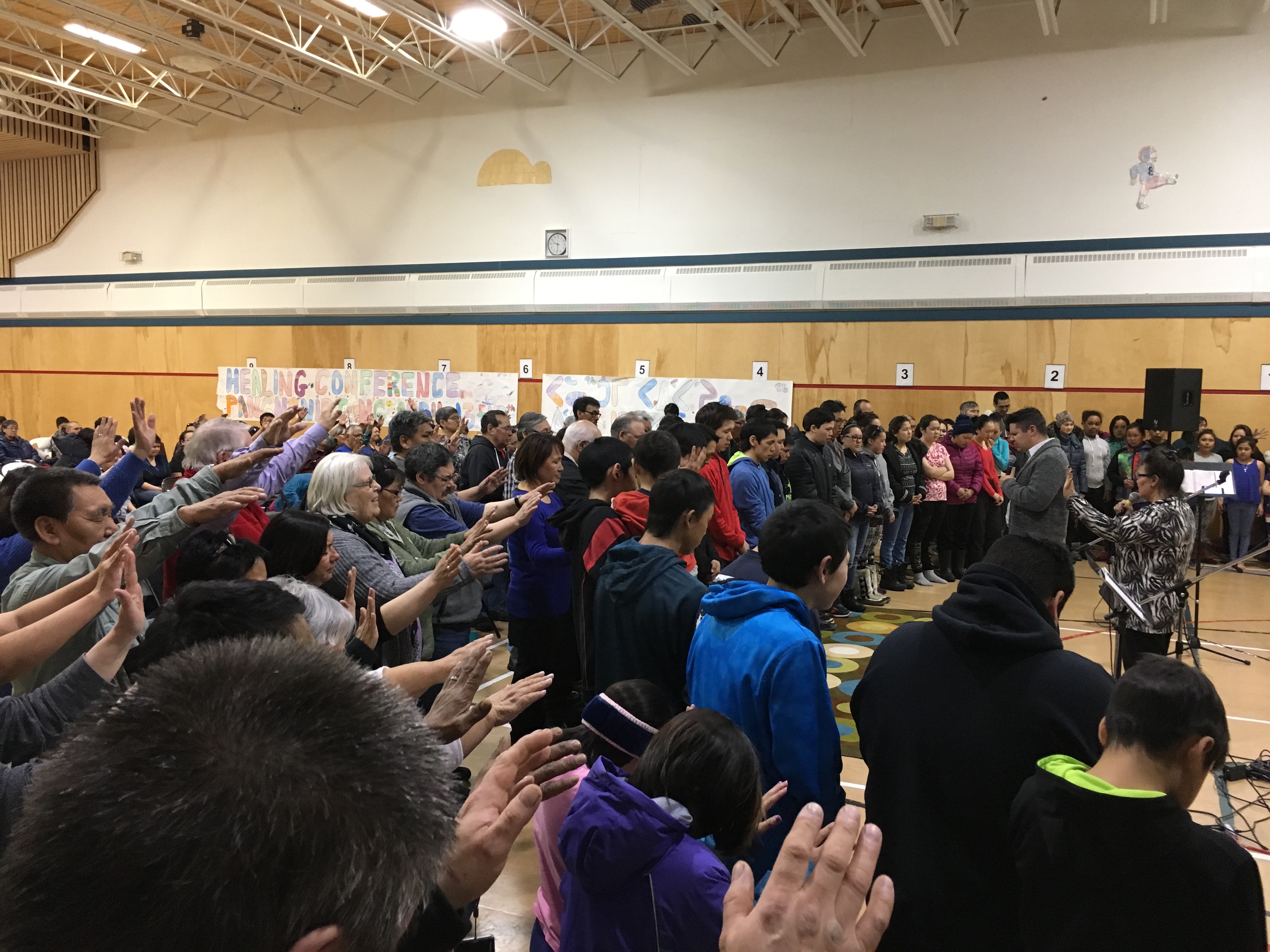 Steven and his mother ministering in Pangnirtung to Inuit youth as Pangnirtung elders prayed for the youth!
When Steven Carleton ministered in Pangnirtung in August 2016, many expressed a fervent desire to see The Arctic Hope Project introduced to the youth of Pangnirtung, following the same course as Cape Dorset. As we go, please partner in prayer with us that young lives will be transformed and restored!
Naujaat, Nu: SEPTEMBER 21-29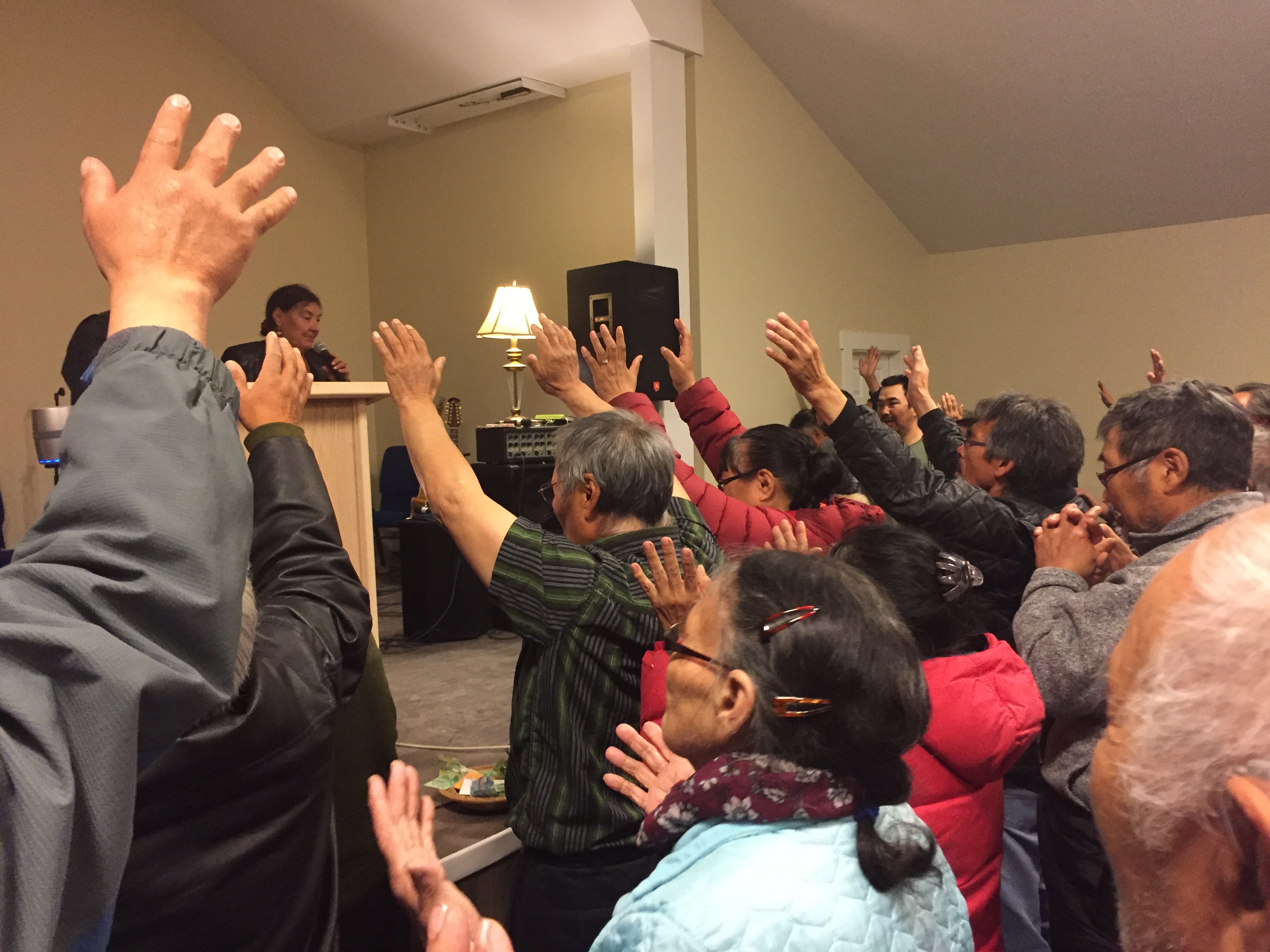 Inuit in Naujaat recieving a fresh touch of the Lord!
The local congregation of believers has been using the newly completed Arctic Hope Centre for regular services. Now we are thrilled to introduce our first Arctic Hope Project in Naujaat! We believe this is the beginning of great things, as young people discover hope and healing in Christ, and as we prepare them for future leadership.
"ANAANA": JULY 30-AUGUST 5
"Anaana" is the word for "mother" in the Inuqtitut language. One of the greatest needs of the north is specific ministry to Inuit single mothers. Alcoholism and abuse have caused deep pain and anger in many of their hearts. Teen motherhood is another hurdle that must be addressed. Working in cooperation with the Pentecostal Assemblies of Canada Women's Ministry, and counsellor Reepa Evic-Carleton, we are believing God to bring healing to their hearts, hope for their future, and help with the unique challenges they face.
CHILDEN'S OUTREACH
Cape Dorset, NU: JULY 3-JULY 10
We are pleased to work alongside …. to reach the many children of families in Cape Dorset. We have an exciting, fun and faith-filled program planned for the kids, and believe that as they encounter the love of Jesus at a young age, they can be the key to beginning a whole new generation of Spirit-empowered believers! Your prayers and partnership are so needed and appreciated.
Stay tuned for testimonies of lives changed and leaders developed. You are part of a good work to see Arctic Canada transformed!