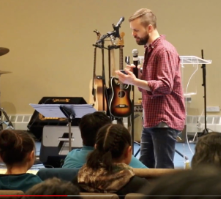 Feb 28, 2018
The First Phase completed!
Steven Carleton, Travis Holownia and Braden Scharfenberg just returned from their very first trip of the Arctic Hope Tour which included visits to the communities of Iqaluit, Kimmirut and Cape Dorset. They were able to speak to 140+ students in two separate high schools about the power of HOPE and that life does not need to stop after we experience trauma. The team also ran music workshops and hosted evening services in the local churches of each community and many lives were touched! In Kimmirut alone, out of the approximately 40 people who attended, 20 gave their lives to Jesus! There were also notable miracles and lives touched by the power of the Holy Spirit. There were children who experienced peace like they never had before, so much so that when they went home, their parents could see a notable difference in their behaviour and were absolutely amazed by the visible peace still resting on their children. God is doing AMAZING things in Nunavut and this is only the beginning!
Click on the videos below to get a quick recap of the trip!