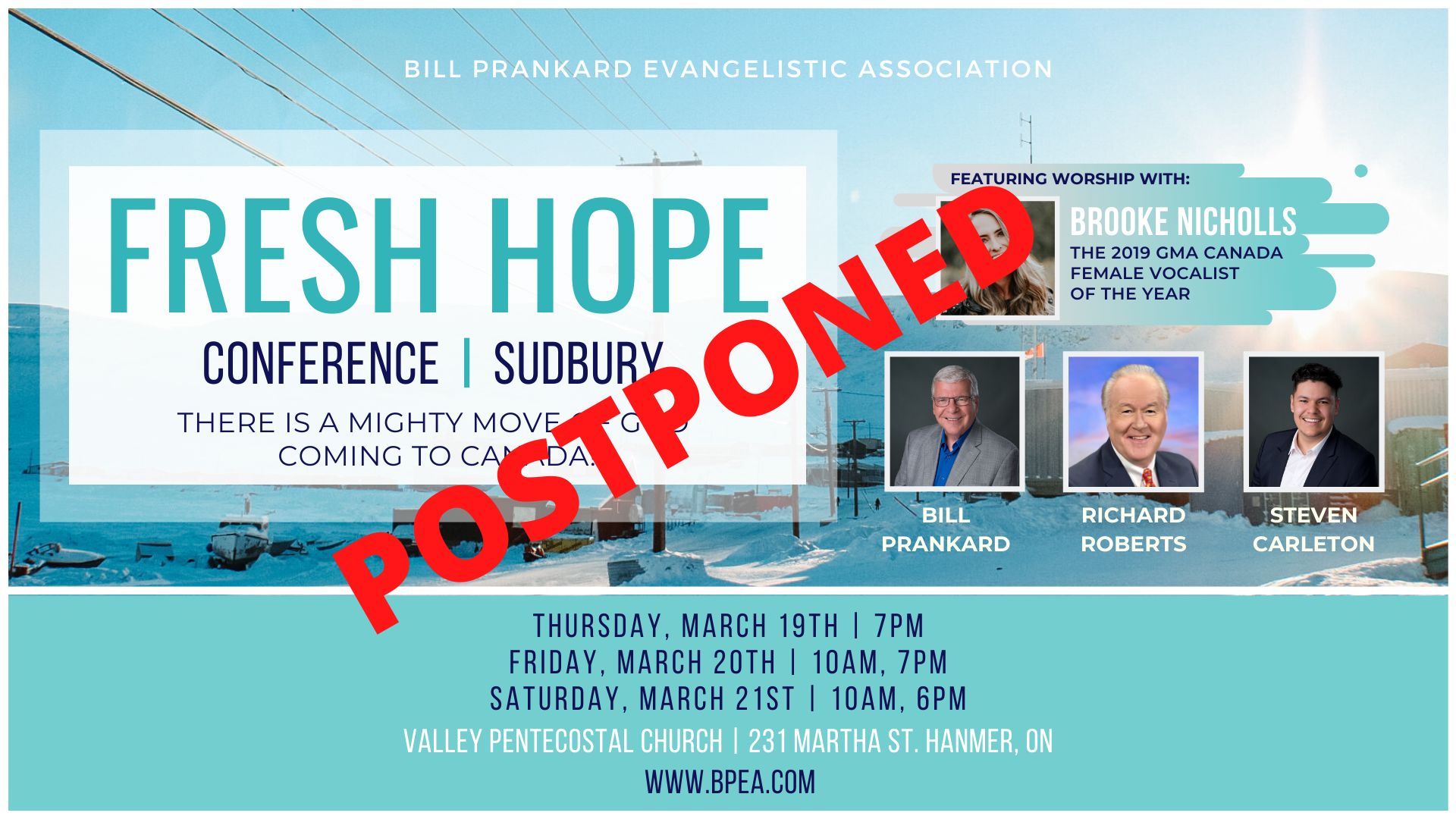 **UPDATE DUE TO COVID-19**


POSTPONED | Fresh Hope Conference – Sudbury
In light of the recommendation from Ontario's chief medical officer to immediately cancel and suspend large events/public gatherings of over 250 people due to COVID-19, we have decided to comply with this recommendation and postpone our Fresh Hope Conference in Sudbury originally scheduled for next weekend.

We remain confident that we serve a miracle working, healing God who is more than able to see us through this storm. There is nothing about this virus that surprises Him and we are expectant that He has a plan and purpose to take what the enemy meant for evil and use it for His glory!
With Fresh Hope,

Steven & Becky Carleton
https://toronto.ctvnews.ca/cancel-events-with-more-than-250-people-ontario-health-offical-recommends-1.4851865
-------------------------------------------------------------------------------------------
FRESH HOPE CONFERENCE | SUDBURY | MARCH 2020

We are so excited to announce the launch of our upcoming conference tour this year called, FRESH HOPE!
We will be visiting 4 different cities in Ontario over the course of 2020 with special guests including Richard Roberts, John Arnott, Bill Prankard, Steven Carleton and more!
We believe there is a mighty move of God coming to Canada and this is a season where He wants to rekindle lives with fresh hope!
Our first stop will be in Sudbury (Valley Pentecostal Church - 231 Martha St. Hanmer, ON) from Thursday, March 19th - Saturday, March 21st with special guests, Richard Roberts, Bill Prankard and Steven Carleton and worship led by Brooke Nicholls, the 2019 GMA Canada Female Vocalist of the Year.

The other conference dates and cities to watch for are...

Ottawa | Thursday, May 7th - Saturday, May 9th
Kingston | Thursday, September 3rd - Saturday, September 5th
Hamilton | Thursday, October 1st - Saturday, October 3rd

Special guests and further details to follow.

There is no registration required and all are welcome!
We hope to see you there!
With Fresh Hope,